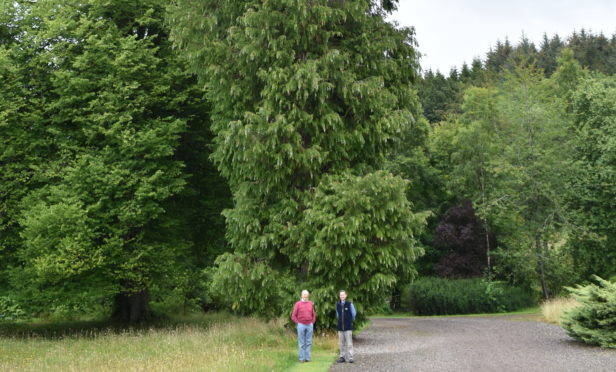 A Perthshire estate is celebrating a tree-mendous find after discovering the tallest Leylandii tree in Scotland is on its land.
The Leylandii on Gleneagles Estate stands proud at a mammoth 34 metres (112 feet), which is about six times as tall as a giraffe or one-third the size of Big Ben.
The record breaking tree beats the previous Scottish title holder at Scone Palace, which measures in at 33 metres.
The Leyland Cypress (X Cuprocyparis leylandii) was discovered at Gleneagles during a routine tree survey and has now been authenticated and published in The Tree Register – a charity that collates and updates a database of notable trees throughout Britain and Ireland.
Martin Haldane of Gleneagles, which is managed by Bell Ingram, said: "This achievement of an old friend is very exciting and we are delighted that this specimen has been found and recognised.
"However, this isn't the first time Gleneagles Estate has grown a champion tree.
"In 1985 The Tree Register recorded a number of record breakers including a Lawson Cypress and Swedish Whitebeam."
Leylandii are fast growing trees and have been known to increase in size by as much as a metre a year.
The tallest in the UK is actually a hedge at The National Pinetum in Bedgbury, Kent and stands at 39.6m (130ft).
However, tree experts believe the ultimate height for a Leylandii has yet to be achieved and the trees will keep growing.
The massive Leylandii is not the only record breaking vegetation to found in Perthshire, which is also home to the world's tallest beech hedge at Meikleour, which stands at 30 metres high and one-third of a mile long.
The Meikleour Beech Hedge was planted in 1745  and his recognised by the Guinness Book of Records as the longest hedge in Britain and the highest of its kind in the world.
Branching out of Perthshire, a Dundee man applied to the Guinness Book of Records last month after growing what he believes to be the tallest delphinium in the world.
Graham Wise, 76,  planted the seeds three years ago in his Broughty Ferry garden and has watched the flowering plant grow to a huge 10ft 6½in tall.
The tallest delphinium in the world was reported to be 10ft 4in, in 2018.