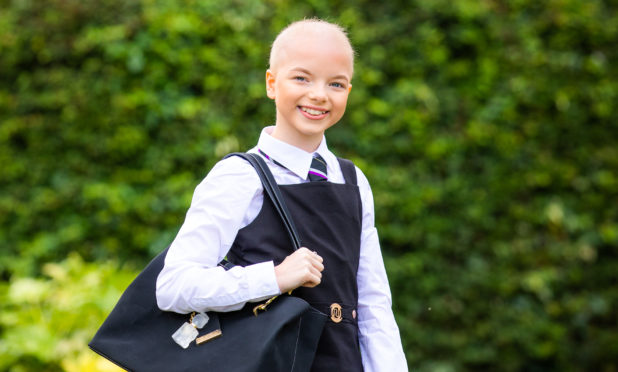 Dancing queen Lily Douglas is all set for her next big challenge.
The inspirational 11-year-old, from Perth, will be stepping up to secondary school on Wednesday. Like most children her age, she is looking forward to getting back together with her friends and studying her favourite subjects, Maths and Art.
But it will be a morning, at one point, her mum Jane "didn't dare dream" would happen.
Lily was diagnosed with stage four Ewing's Sarcoma, a rare form of bone cancer, when she was just nine.
After months of treatment, including proton beam therapy in the US, Lily was declared cancer free in September last year.
Just days later, the family shared the devastating news that the cancer had returned, more aggressive than ever and spreading to both lungs.
Lily has always refused to let the illness slow her down and has kept dancing throughout her treatment.
After securing another clutch of dance awards in Ireland last month – to add to the growing collection of trophies and shields at home – she will compete at a world street dance contest in Blackpool this weekend.
Her family faces an even bigger test next week, when Lily returns to Perth Royal Infirmary for a fresh scan.
The test on her lungs will show whether her latest chemotherapy treatment is working.
Jane said: "Lily has been quite ill this time round, her temperature has been going up and down, she's losing hair and she seems more tired than usual.
"But this could be a good thing. It could show that the chemo is doing its job, so we've got everything crossed."
She said: "If it isn't working, we will have to go to a higher dose, which will mean spending more time in hospital."
Lily had a shoulder blade removed to get rid of a tumour, meaning she can no longer lift her left arm.
She said: "At first, I was like: What am I going to do? But it has been fine.
"It hasn't really affected my dancing. If I'm dancing as part of a crew, they will let me do what I can and it doesn't matter if I can't raise my arm like the rest of them. Nobody minds."
Jane said: "Before she was ill, her dream was to go to Scottish Ballet, but we know she'll never get in there now because of her shoulder.
"It was her dream when she was younger, but she's just moved on to different things now."
Lily – who said the highlight of her summer was meeting Lewis Capaldi – said she is looking forward to start her lessons at the secondary section of St John's Academy. She said she was impressed when she got a tour as part of an induction day.
Jane said: "Seeing her in her secondary school uniform, it was a day that I never dared dream would happen.
"But she's just kept going. She won't let things get in her way."