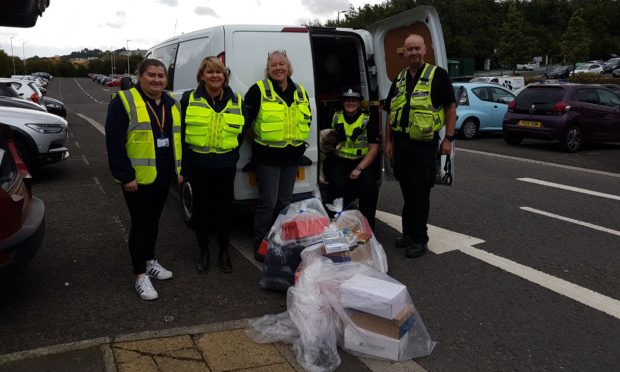 Counterfeit goods were seized at a popular outdoor market on Sunday during a raid designed to curb the sale of illicit merchandise by traders.
Fake tracksuits, trainers, perfume and jewellery were claimed by Perth and Kinross Council's Trading Standards at the Errol Sunday Market on August 18 in a joint operation with Police Scotland and the market organisers Morris Leslie.
Trading Standards claim, if authentic, the seized goods would have been worth more than £7,000.
Keith Payne, Errol Sunday Market manager, said the organisation was happy to help with the operation after signing up to the Real Deal Campaign in 2015 to free markets of fake products.
He said: "I've worked in retail for many years and I know the effects that counterfeit goods can have on genuine traders.
"We have a good working relationship with Trading Standards and we signed up with Perth and Kinross Council to the Real Deal, which is a UK wide initiative to ensure that all traders don't sell counterfeit goods or contraband like cigarettes and alcohol.
"We support the visit we had on the 18th with Trading Standards and Police Scotland with their sniffer dogs – they had a walk around and it was a successful operation."
A female stall holder was suspected of selling the counterfeit goods which were seized at the scene.
Mr Payne said: "She was found to be selling counterfeit tracksuits and such like and her goods were confiscated by Trading Standards.
"It sends a very clear message to our traders and customers that whatever goods they are purchasing are the genuine articles.
"Anyone caught selling contraband or counterfeit goods are then banned from the market in the future."
A Perth and Kinross Council spokesperson said: "Trading Standards Officers carried out a routine visit to Errol Sunday Market on August 18.
"A number of items, believed to be counterfeit, were seized including tracksuits, trainers, perfume and jewellery.
"Trading Standards are currently making enquiries about the items seized with the brand holders.
"Once these enquiries are complete, a report will be sent to the Procurator."