Tayside's latest Great British Bake Off contestant starred in a low-budget student horror film before getting his break on the Channel 4 baking show.
Michael Chakraverty made his acting debut the same year as he began studying at Edinburgh University.
In the four-minute flick – titled The Trail – the 26-year-old is virtually unrecognisable as he plays Mark, one of a group of friends who venture into the woods and is then apparently attacked by the spirit of a young girl.
A source said Michael, who has not starred in any films since 2011, had lost a lot of weight since starting university.
Even before the Bake off line-up was announced Michael posted a pictures of his stunning bakes to Instagram – with oblivious friends urging him to apply for the show.
The baker got an early taste for show business as part of Perth Youth Theatre, which had previously nurtured the talents of Hollywood superstar Ewan McGregor.
After graduating from Perth Academy, Michael studied English Literature between 2011 and 2015, gaining a First Class honours degree.
During his studies he worked at the Edinburgh Playhouse and the city's Lyceum Theatre, before moving to the Ambassador Theatre in Woking after graduation.
Brought up in Scone, he currently works for the prestigious Royal Shakespeare Company in Stratford-upon-Avon.
Former colleague Rebecca Shearer, who worked with Michael at Edinburgh Playhouse Theatre, said she felt his work ethic would help him do well on the show.
"He was my supervisor when I worked Front of House at the Edinburgh Playhouse," she said.
"I liked him a lot – I thought he was really, really nice.
"I didn't know he was a baker and sadly I never got to try any of his cakes as he never brought any in.
"He was very hard working and was promoted very quickly after starting working at the Playhouse. He was very good at his job – he could deal with almost any customer complaint efficiently – and he was still a lot of fun to work with.
"I think he'll be just as hard working on the Bake Off as he was in his job and that his creativity will lend itself well to the challenges.
"I'm absolutely backing him to win – and I know a lot of his other former colleagues are as well."
Rikki Maclean, who was assistant FOH manager at the Playhouse when Michael was a supervisor, added: "He's a great guy – super smart, bright and funny guy!
"I'm hoping he wins the competition. I look forward to seeing him on the show."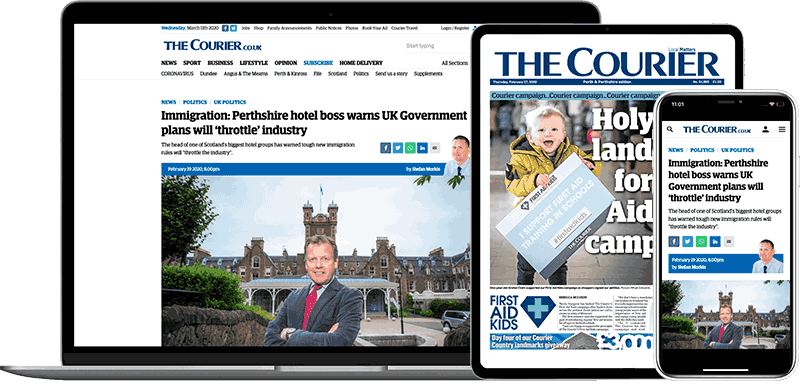 Help support quality local journalism … become a digital subscriber to The Courier
For as little as £5.99 a month you can access all of our content, including Premium articles.
Subscribe