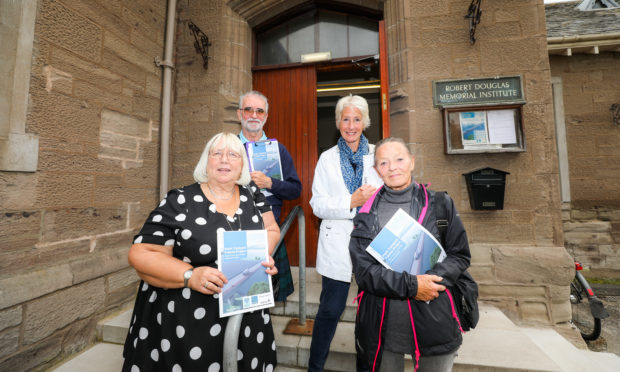 Scone Community Council has called for increased communication and co-operation as the Cross Tay Link Road plans take one step closer to fruition.
The second of four public exhibitions into the £118 million infrastructure project was held in the village's David Douglas Memorial Institute on Thursday afternoon.
Prior to opening to the public, Scone Community Council members were invited in for half an hour beforehand.
Although accepting of the development as a whole, the group is calling for some logistical tweaks and would like a regular, or even permanent, seat at the discussion table.
Chairwoman Vanessa Shand said: "We had moved to take the route away from the Scone North development. The council voted to keep the route the same so that wasn't taken into account.
"Over the past two years, we've been asking for a traffic modelling plan on what to expect and we've still not seen one.
"Our concerns are mainly environmental issues. The air and noise pollution in the area of the new housing development will be increased by this main road.
"A section of that is going to be affordable housing, so there will be lots of young families and pregnant women, who are most affected by the emissions.
"The Woodland Trust have pledged to give free trees to help screen this, and we're asking that they are planted now so that they have time to mature.
"We've accepted that the project is going ahead and want to see it have the most positive impact it can."
Community councillors also raised fears in relation to the distance the cycleway is set to be from the 6km new main road, the location of the "green bridge", which will be covered in plants, and woes over a road near Scone Palace being closed other than for events.
However, Perth and Kinross Council has said the plans exhibited at the meeting were more finalised that previous designs, and a report on their feedback will be released in the form of a Frequently Asked Questions sheet.
Local authority roads infrastructure manager Jillian Ferguson said: "It's not in the planning authority's role to change the design unless there are some planning policy implications.
"This is the pre-application exhibition so it is for us to tell the community what is effectively the design, what we've done over two years.
"We'll provide another Q&A sheet like last time on questions that are asked a lot. That will be published before the planning application."
The formal planning application for the project will be submitted in October, with the Compulsory Purchase Orders also expected to be published in the same month.
Two more exhibitions will take place in Coupar Angus on Tuesday and Wednesday.