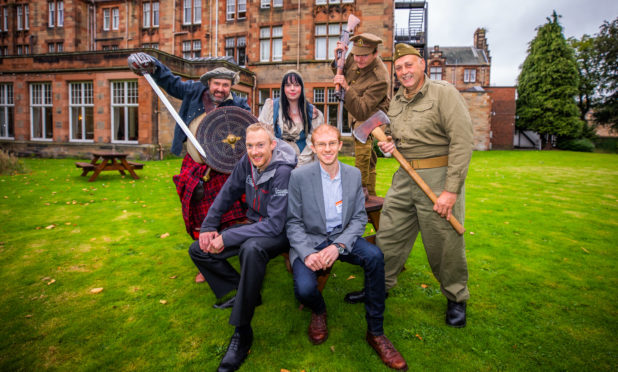 A new archaeology campaign hopes to uncover the secrets of Perth's hidden history.
Nearly 100 researchers, historians and academics gathered in the Fair City on Friday to discuss a new strategy, aimed at unearthing new facts about the region's past.
The seminar was called to help shape a regional research framework, which is being developed by the Perth and Kinross Heritage Trust.
Research and Engagement Officer for the trust, Gavin Lindsay explained: "Thanks to all the research that's taken place in Perth and Kinross since the late 1920s, we know a great deal about the region's past population through their legacy of artefacts, sites and monuments.
"However, there is still a great deal that remains unknown and this exciting project is all about reviewing what we know, working out what we still need to find out and deciding how we should go about getting answers to these burning questions."
In the last year, scholars from across Scotland have been working to identify the unknowns for every period of human activity, from the region's earliest settlers in the Mesolithic era to listening post operatives during the Cold War.
The Priorities in Progress conference, held at the city's Station Hotel, offered a platform to discuss the next stage of the three-year project with the wider community.
Trust director David Strachan said the new framework was an important part of the region's future.
"Perth and Kinross has a rich and diverse historic environment with nearly 4,000 sites of national significance and over the last decade the area has been subject of several large academic and community-focused archaeology projects, as well as archaeological work carried out in advance of development," he said.
"The research framework will help us manage the historical environment more effectively, guide ongoing and future research to better address gaps in our knowledge, and improve our understanding of under-investigated periods, themes and geographical areas."
The project is funded by Historic Environment Scotland through the Society of Antiquaries of Scotland.
Archaeologists recently unearthed more than 700 ancient tools at a Perthshire farm, as part of a dig to learn more about the area's Mesotholithic communities.
The trust is also expected to be involved in an archaeological study of the city centre, before work is completed on the new look Perth City Hall.