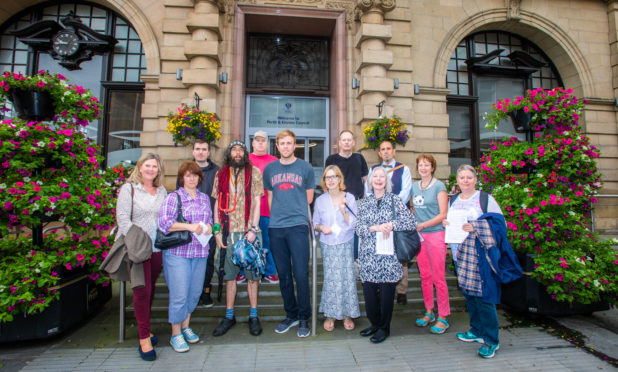 Mental health charity PLUS Perth has lodged a formal complaint about the way its members were treated at a controversial meeting in the council chambers.
The group had attended a scheduled meeting of the Perth and Kinross Integration Joint Board (IJB) in July, expecting to hear a discussion on Dr David Strang's damning report on mental health services in Tayside.
However, the meeting descended into chaos when PLUS Perth members and other residents were told to leave the room.
When the public refused to leave, senior members of the IJB walked out instead.
Conservative councillors Callum Purves and Colin Stewart, who had spoken out against the meeting's cancellation, have since been suspended after complaints were made by some IJB members. They will find out on Monday afternoon, if they will be ejected from the board.
PLUS Perth has now issued a strongly-worded complaint to Perth and Kinross Council and called for "disrespectful and substandard behaviour towards the public" to be investigated.
The group's Development Manager Susan Scott wants the local authority to explain why a decision was taken to cancel the meeting – "with no valid reason offered" – around four working hours before it was due to take place.
"We were worried of a discussion about mental health services happening behind closed doors and we would not witness what was decided about the very services we have a huge stake in," she said. "We attended with the hope that the meeting would go ahead, if the IHB considered that people had made a considerable effort to come.
"Callum Purves tried to reason with the chair, but was cut off and unable to be heard. Other councillors and public partners behaved respectfully, apologising to the public and communicating well with us."
Meanwhile, the Kinross-shire Civic Trust has written to council leader Murray Lyle, in support of both suspended councillors.
Secretary Eileen Thomas said: "We consider that Councillors Purves and Stewart were continuing this very commendable approach to representing the best interests of those they are elected to serve.
"In this particular case (regarding the IJB meeting), they have applied this same commitment to members of the public who were present to seek answers to very legitimate concerns."
She said it was "troubling" that they had been suspended, without getting the chance to view the complaints made against them.
An extraordinary meeting of Perth and Kinross Council will be held on Monday, where Mr Lyle will lead a motion to remove the councillors from the board. The move is likely to be challenged by other councillors.