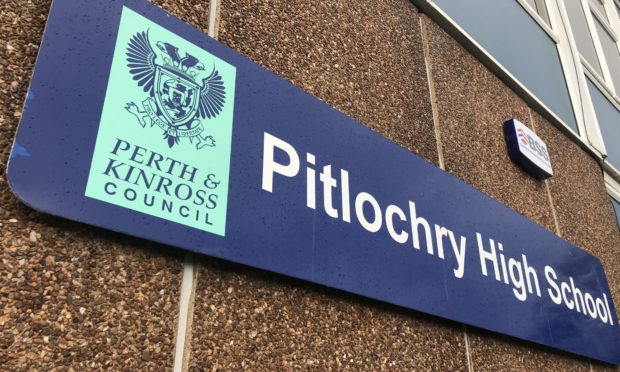 Ruling members of Perth and Kinross Council were defeated twice during a chaotic committee meeting regarding the future of two schools in Highland Perthshire.
Councillors called breaks totalling more than an hour as they battled over the future of Pitlochry High School and Logierait Primary School at Wednesday's lifelong learning committee.
In two defeats for the minority administration, it was decided provision for S5 and S6 pupils at Pitlochry will be considered, as long as it is not to the detriment of nearby Breadalbane Academy.
It was also agreed a nursery will be provided at Logierait, without the previous condition that it will be reviewed it five years, which opposition councillors said would "prolong uncertainty" for parents.
The decisions went against original motions put forward by the administration, which no longer has enough councillors to win a vote.
Chaos engulfs Perth and Kinross Council as Tory-Lib Dem bid to eject suspended councillors fails, bolstering opposition
The meeting got off to a fractured start as convener Caroline Shiers threatened to suspend the hearing following questions from councillors Callum Purves and Xander McDade about information which had been available in draft papers but was later removed.
Following a short recess councillors discussed the review into Pitlochry High School with representations made by the parent councils of both Pitlochry and Breadalbane Academy.
Andy Charlton, chairman of Pitlochry High School parent council argued that "the option to explore the feasibility of introducing S5 and S6 into Pitlochry High School must still be a consideration, whilst of course, having no detrimental effect on any other school".
The administration backed the recommended option of creating a Highland Perthshire Learning Partnership (HPLP) which would see improved collaboration between the two schools, Perth College and other community partners but would not see any S5 or S6 provision for Pitlochry.
A 15 minute recess was then called by Highland Perthshire Independent councillor Xander McDade who returned with an amendment seconded by fellow ward councillor Mike Williamson of the SNP, which included that the HPLP  "should include the delivery of S5 and S6  from Pitlochry High School and would not be detrimental to the educational offer at Breadalbane Academy."
Councillor Williamson argued that offering S5 and S6 at Pitlochry had been "discussed for decades".
Following another 35 minute recess when the administration discussed the amendment, it was unanimously agreed with minor changes to the wording of other points by vice-convener John Duff.
The provision for a nursery school at Logierait Primary School to help boost attendance figures was next on the agenda with the administration supporting that the recommendation that the nursery be approved but with a review in five years.
Caroline Kemp, of Logierait Primary School parent council, said: "We know of parents who have chosen not to put their children to Logierait over the last couple of years due to it being under threat of closure and we do not want to have another review in the future discouraging parents from putting their children to the school."
Mr Purves backed up Ms Kemp, saying the five year clause only "prolonged the uncertainty".
Mr McDade and Mr Williamson again put forward an amendment to remove the five year stipulation, which, following another recess by the administration, was agreed unanimously.