VIDEO: Eyes of the golfing world to rest on Gleneagles as Solheim Cup gets ready to swing into action
The eyes of the golfing world will be on Tayside next week as more than 85,000 spectators prepare to descend on Gleneagles for the Solheim Cup.
The international women's golf tournament has been four years in the planning and organisers say the Perthshire course, which also hosted the Ryder Cup in 2014, is the perfect setting for bringing a world class event to Scotland.
The European team, which is vice-captained by Dundee's Kathryn Imrie, will tee off against their US counterparts on September 13, though the activities and practice rounds at Gleneagles begin on September 9.
The finishing touches are being applied to the course, which will feature four grandstands, including a first tee amphitheatre with nearly 3000 seats, a hospitality suite and a huge spectator village,
Paul Bush, VisitScotland's director of events, said the tournament would, once again, put Scotland and Tayside on the golfing map.
He said: "It's a huge event. It's got international appeal.
"It goes live into the US, it goes live into 100 countries around the world and there's no other golfing event that weekend so the eyes of the world will be on Gleneagles and Perthshire.
"In terms of showcasing Scotland, you look down the first tee and, what a vista."
Gary Silcock, director of golf at Gleneagles, said the tournament has already created a positive atmosphere at the club and the surrounding area.
"It's also very exciting up in the hotel. We have 1,100 staff employed here and a lot of them live in Auchterarder and Auchterarder is also getting tidied up so it's great for the community.
"When you have a tournament like this it benefits the whole community. It's not just the golf, there's a whole lifting of the atmosphere."
Ross Hallett, executive tournament director of the Solheim Cup, said: "This is going to be the most accessible, the most diverse, the most inclusive and the most expansive Solheim Cup.
"We believe Gleneagles will deliver the best Solheim Cup ever.
"Getting women into golf is really important because getting women into golf gets families into golf.
"We've made it really accessible for families to come along. We've got a kids' zone which has never been seen in golf before.
"We just want everyone to come together and experience what really is a great event."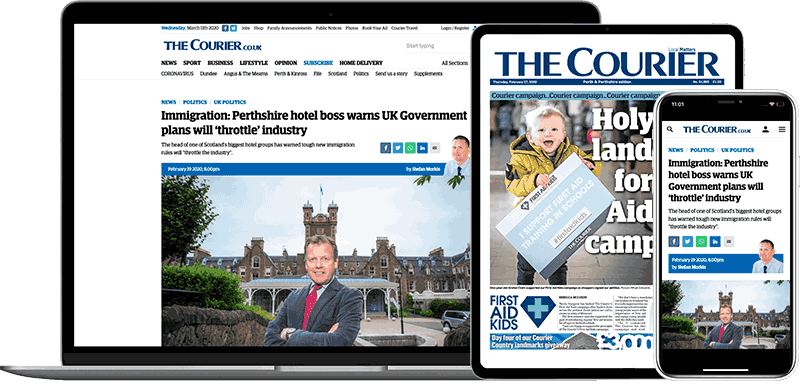 Help support quality local journalism … become a digital subscriber to The Courier
For as little as £5.99 a month you can access all of our content, including Premium articles.
Subscribe