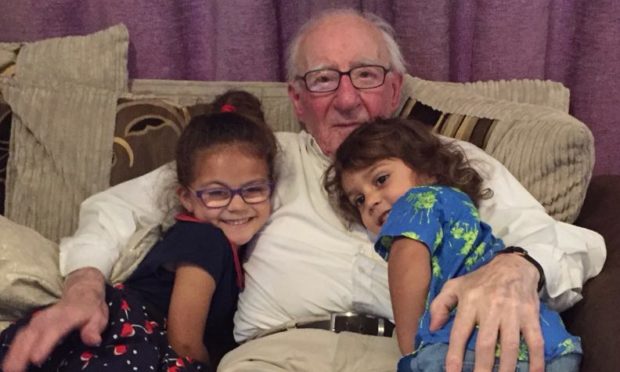 The son of a 97-year-old man who died after being knocked down in Crieff this weekend has paid tribute to his father.
William Dye, known as Bill, died in hospital after being struck by a car close to his home in the Perthshire town just before 9.45am on Saturday.
The grandfather of four had lived in Crieff for  22 years but was originally from Broughty Ferry in Dundee where he worked as a draughtsman for NCR before his retirement.
His son Michael said that despite his father's age he had a "youthfulness that belied his years".
Michael said: "He was a real part of the local community. He was well known and well liked and he loved his grandchildren.
"He was a very active man. He loved hill walking. Up until the last couple of years he went on five or six mile walks a day.
"He was very youthful for his age, you would never have thought he was 97.
"He had a youthfulness that belied his years."
Michael also described his father as caring man who was always looking out for others – a trait he has continued after his death by donating his body to the University of Dundee for research.
"He was always keen to make sure he could help and he always wanted to help others and he wanted to help the future doctors," said Michael.
Following Mr Dye's death on Crieff High Street, road safety campaigners have called for action on the busy A85 road.
Campaigner and former community councillor Craig Finlay said: "The news of this accident on the High Street is very upsetting, but not altogether surprising given the volume of concern people feel about crossing this extremely congested and busy trunk road.
"I'm currently running a petition aimed at getting safer crossing measures over East High Street, but in my campaign I have had a high number of people also raise the issue of crossing the road at West High Street.
"I would urge Transport Scotland to meet with concerned residents to look at what can be done to make pedestrian access across the A85 much safer."