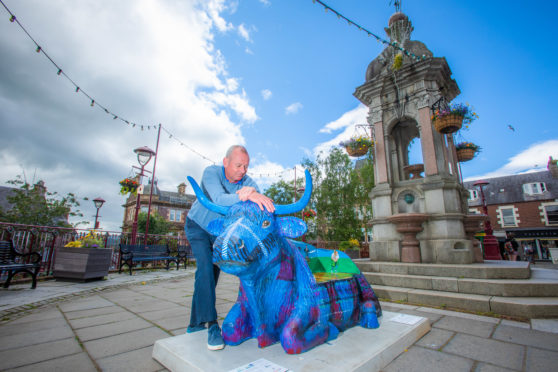 A Highland coo art trail in Crieff has moo-ved on after attracting thousands of visitors to the Perthshire town.
The Cowches trail, which saw 11 brightly painted Highland cow benches dotted around the town, were removed from their stations on Monday after spending the last two months on display.
Organisers Crieff Succeeds believe that as many as 15,000 people visited the trail since it was launched on July 1 as an attempt to bring more tourists into the area.
David McCann, of Crieff Succeeds, said the Cowches had been a great success.
He said: "The Crieff Cowches have been hugely popular and the project more successful than any of us could have imagined.
"The people of Crieff took them to their hearts and thousands came from far and wide to follow the trail and to photograph them.
"My thanks go to all the businesses and of course the artists who helped create this memorable project."
More than 2,500 trail maps were picked up by locals and tourists as they hunted the Cowches which were spread as far apart as Glenturret Distillery and Innerpeffray Library.
The Cowches were painted by different artists who won commissions to design the sculptures which were sponsored by businesses and independent private donors.
Local artist June McEwan, who designed two of the cows, said: "I thought it was a great idea for Crieff because Crieff isn't the tourist attraction it once was.
"It lacks a tourist trail and to have this cow trail I just thought was great because one of the best things about Crieff is its views so it's fantastic to to be able to go around a just have a sit and see what we can see."
The town will now hold a farewell event for the Cowches on September 14 where all the artworks will be gathered at Old St Michael's from 12pm to 4pm before they are transferred to the Crieff garage showroom where artists will clean them up and fix any damages.
The 11 Cowches will then be auctioned off at a charity event for the Scottish Charity Air Ambulance (SCAA) on October 9 at Crieff Hydro.
In July, less than a week after being put in place, vandals targeted two of the sculptures in an act described by David as "wanton violence" with a group of youths smashing the Cowches with rocks and breaking off their horns.