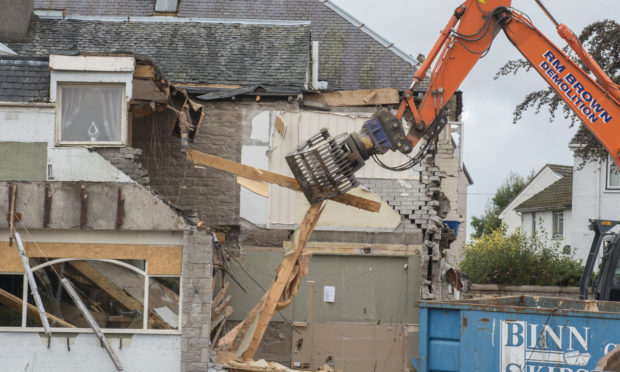 Demolition crews have set to work on a once-thriving Perthshire restaurant.
The Wheel Inn, on the edge of Scone, closed without warning at Hogmanay.
The boarded-up establishment is being consigned to the history books to make way for new retirement homes.
The Angus Road site has been fenced off, while diggers start tearing down the restaurant section and upstairs rooms. Trees at the side of the car park are also being removed.
Developers Juniper Residential won planning consent to build 51 retirement flats on the site in March.
The firm said the project would help address a growing, ageing population.
Once cleared, the framework for the new three-storey block will be swung into place. Project leaders hope the flats will be ready later next year.
The Wheel Inn shut with the loss of about a dozen jobs at the end of 2018, following months of concern about its future.
Manager Stuart Shearer, who was previously boss at Perth's Lovat Hotel, which also shut without warning, had run the Wheel Inn for management firm Three Thistles and owner Caledonian Heritable.
It was never publicly confirmed that the Wheel Inn had closed and management refused to say if it would ever re-open.
Juniper struck an agreement to take over the site as soon as planning consent was agreed.
The company had originally lodged plans to build 55 flats, but the project was scaled back after opposition from locals.
In paperwork submitted to planners, developers said the homes would be designed for over-55s.
"The scheme will provide a vibrant and lively hotel-like ambience," a spokesman said.
"A 'state of the art' retirement community will deliver a centre of excellence in housing for the elderly in the picturesque village of Scone, whilst benefiting from a close proximity to the city of Perth."
Juniper is part of the Cruden Group, one of Scotland's largest privately-owned development and construction companies.
Planners received 18 objections to the plan, including one from Scone and District Community Council.
The watchdog raised concerns about the loss for Scone of a "valued community facility".
Worries were also raised about parking and transport problems, as well as the potential impact on air quality.