A man who bit off part of an adversary's ear when a months-long feud boiled over into violence in the busy main square of a Perthshire tourist town was fined £1,000 yesterday.
Kurt Scott, 25, pulled Graeme Baird out of the driver's seat of his van, poked him in the eye, and chewed off a three centimetre chunk of his right earlobe, which he spat onto the tarmac.
The incident, in Cross Street, Callander, was sparked when Mr Baird, 34, drew a finger across his throat after spotting Scott and Scott's father in the town.
Stirling Sheriff Court was told there had been a history of animosity between the two after a party several months earlier.
Scott had repeatedly tried to defuse the situation with conciliatory texts but Mr Baird texted back: "Are we sound?… No, you're getting it."
Prosecutor Cheryl Clark said on June 1 2018, Mr Baird had stopped his van in Cross Street.
She said: "Mr Scott was a passenger in his father's car, passing the complainer's parked vehicle.
"He and Mr Baird made eye contact, and Mr Baird gestured to the accused, pulling his finger across his throat.
"Mr Scott asked his father to stop the car, and he walked back down the street at pace. He opened the door of Mr Baird's parked van, and began to pull him out.
"Mr Baird kicked out at the accused, and they both fell out of the van and a struggle broke out between them.
"Witnesses on the street said they were 'rolling about on the ground'."
Police were called and Mr Baird drove off, before stopping down the road feeling light-headed, and walking the rest of the way home, where his partner called an ambulance.
At hospital, doctors had to remove a further part of his ear to allow it to be stitched.
A police surgeon found Scott had a swollen lip and grazes.
Scott, a first offender, of Camp Place, Callander, pled guilty to assaulting Mr Baird under provocation, to his severe injury and permanent disfigurement.
Solicitor Virgil Crawford, defending, said Scott had received a number of threatening messages from Mr Baird.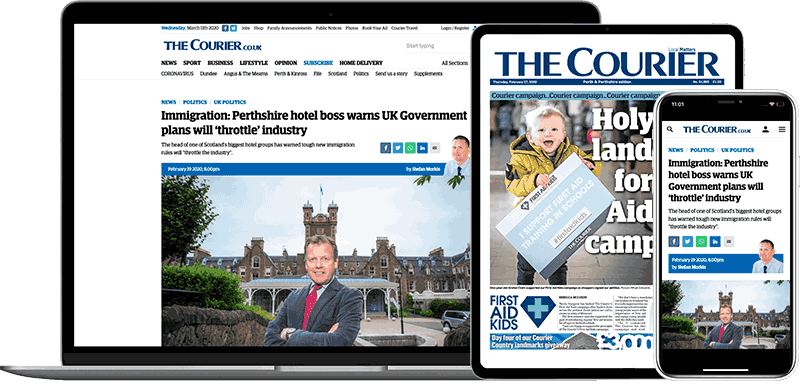 Help support quality local journalism … become a digital subscriber to The Courier
For as little as £5.99 a month you can access all of our content, including Premium articles.
Subscribe