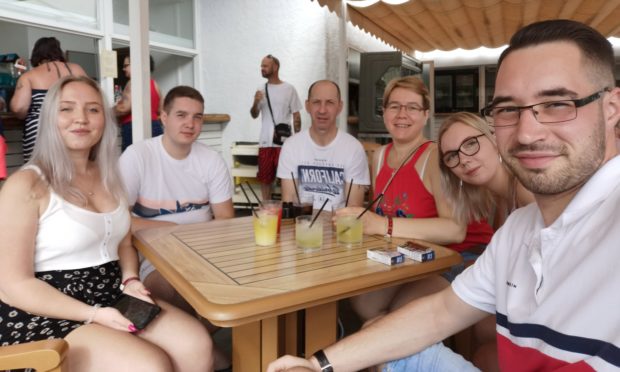 A Tayside family on their first trip abroad together are among thousands left feeling stranded after the collapse of Thomas Cook.
Rafal Junka,who has lived in Perth for 13 years, flew to Majorca with his family on Sunday – the day before negotiations to secure £200 million to save the holiday maker fell through.
The UK's largest peacetime repatriation was launched in the aftermath of the news. An estimated 150,000 tourists are being brought home by the Civil Aviation Authority in a flight programme costing an estimated £100m.
Rafal is with his partner, brother, his brother's partner and his parents, who all live in Perth. It is the first time the group has been abroad together.
"We were nervous because we weren't too sure if we would be able to get on the plane," Rafal said. "We don't have any confirmation or information about the flight back or the transfer to the airport.
"We are very nervous because we don't know when we will fly back and how we will get to the airport and back to our country.
"We are happy to be here, however, but now in the back of our minds all we have is stress and what's going to happen next."
One million customers will lose their future bookings, although with most package holidays and some flights only trips being protected by the Atol scheme, customers who have not yet left home will be given a refund or replacement holiday.
But some travellers were scrambling yesterday looking for answers. One such traveller is Braco woman Rhoann Bickerton, who was looking forward to heading to Orlando next week with her husband and two sons, aged 13 and 16.
Rhoann and her husband put in a full day's shift simply waiting to be seen at Barrhead Travel Dundee, the agents they booked their Thomas Cook holiday through. The trip is a belated holiday for Rhoann's 50th birthday.
"The boys are gutted as this has been booked for 10 months,"she said. "My husband was at Barrhead from 10.30am and I arrived at 1pm to take over but he had to call a third party and was there until 4.30pm anyway.
"But in the end we got another flight booked. It's not direct, but we're still going. "Barrhead was working very hard today."
Arbroath woman Kate Lennon said she was "so angry" about a holiday with her daughter and partner falling through. "They were due to fly to Salou on Sunday, but that won't be happening now.
"I am upset for my daughter,"she said. "My husband was in yesterday (Sunday) and they let him pay for insurance and told him they should come to a deal by Friday but woke up to this.
"I have tried to phone all day and getting nowhere. We're left without a holiday."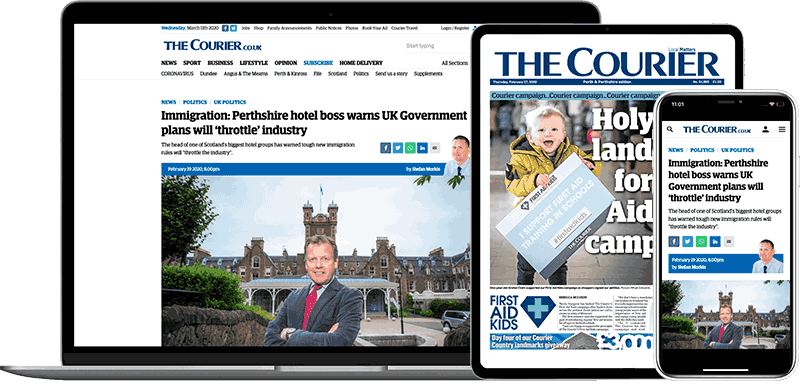 Help support quality local journalism … become a digital subscriber to The Courier
For as little as £5.99 a month you can access all of our content, including Premium articles.
Subscribe