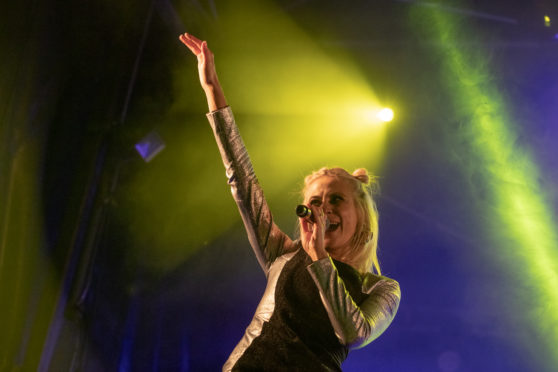 There will be no admission fee for this year's Perth Christmas lights show.
Councillors had been asked to consider introducing charges as part of wide-ranging review of how the highly successful Winter Festival event is funded.
However, officers warned it could dramatically change the nature of the event and prevent some residents from taking part. They also said it would be very tricky to fence off sections of the city centre.
The local authority has confirmed there are no plans to charge for entry to the extravaganza on Saturday, November 16.
It is understood the council is still investigating other ways of generating income, such as through sponsorship deals.
Members of the Perth Common Good Fund Committee have agreed to pay £40,000 towards the day-long celebration, which usually attracts tens of thousands of people into the city.
Last year's show, featuring headliners James Arthur and Pixie Lott, drew a record crowd of 91,000, generating £2 million for the local economy.
The event, including performance fees, cost nearly £230,000 of public cash, making it the most expensive party Perth has hosted since its Winter Festival programme launched six years ago.
The total for 2019's event is expected to be revealed around the end of the year.
The Common Good cash pays for the main stage (£20,000), plus a second stage in King Edward Street (£2,000), a children's area at Horsecross Plaza (£3,000) and £10,000 for the traditional Santa parade and street entertainment.
A further £5,000 will go towards general safety and welfare costs.
It does not include fees for headline acts, which will be announced in the coming weeks.
Meanwhile, the committee also agreed a grant of £16,240 towards Perth's annual bonfire and fireworks display which will launch the Winter Festival on November 5.
The event, which attracts around 8,000 people to the South Inch area and features a programme of live music, usually gets £15,000 of common good cash.
Organisers Strathearn 200 Round Table requested some extra money this year to cover further safety costs.
The move was queried by some councillors, who suggested awarding the amount of £15,000 instead.
Liberal Democrat Peter Barrett said: "Previously, we were given a breakdown of this event and some of the costs, such as thousands of pounds for DJs, were questioned."
He said he did not feel the event would be negatively affected if the Round Table group received less than they asked for.
SNP councillor Dave Doogan disagreed, saying: "Costs rise all the time and if we don't want quality to fall, we have to increase funds."
The committee voted eight-three in favour of granting the full £16,240.