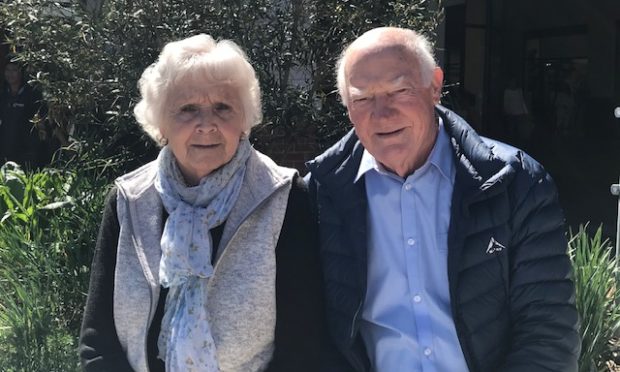 A couple in their eighties who were airlifted to hospital after falling 35ft  at a Perthshire beauty spot have thanked the rescuers who came to their aid.
Alex and Mary McMaster, from South Africa, were visiting the Birks of Aberfeldy last month when Mary, 81, slipped down the embankment of the popular walking spot, narrowly avoiding the river below.
Alex, 82, attempted to help his wife before falling himself, leading to a full rescue operation.
Two fire engines, several police vehicles and the Scottish Ambulance Service's special operations response team all raced to the scene to help the couple.
Mary was taken from the Birks area on a stretcher and airlifted to hospital after suffering cuts in the fall and Alex was also transferred to hospital as a precaution.
The couple are now back in South Africa, recovering but wanted to thank the emergency services that helped them, as well as the passers-by who also came to their aid.
Alex said: "We wish to take this opportunity to thank everyone who was involved in the rescue, in particular, the paramedics who stabilised my wife and the fire service that supplied strong bodies to carry the stretcher to safer ground.
"To the Scottish Ambulance service, for the ambulance and the helicopter that transported us to hospital and to the Mountain Rescue Service and the police and staff at Nine Wells Hospital Trauma Unit.
"A special mention must be made to two couples who thankfully just happened to be passing by.
"To Erin, a right chatter box, and her boyfriend Malcolm who raised the alarm and called for help, and to Catherine, a nurse, together with her husband who tended to my wife while we awaited help.
"Thank you all so much we are eternally grateful for the help and kindness showed by all in our time of need, you will remain forever be in our hearts."
The accident happened on the afternoon of August 27 at the Highland Perthshire beauty spot, with the fire service sending crews from Pitlochry and Dunkeld to help the stricken couple.
A line rescue unit and aerial team were also required at the scene to bring Mary and Alex safely back up the embankment.