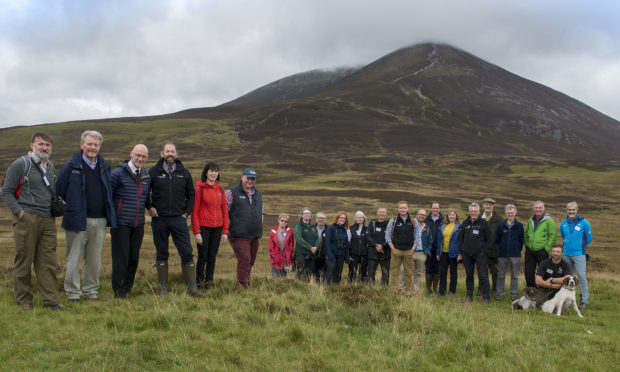 A popular mountain trail in Highland Perthshire has been relaunched after more than £220,000 of repairs.
The well-trodden path around landmark Beinn a'Ghlo, a familiar sight to motorists on the A9 at Killiecrankie, has been blighted with an erosive scar for several years.
But a series of path repairs and upgrades, overseen by the Outdoor Access Trust for Scotland (OATS) , has given the beauty spot a new lease of life.
The mountain was identified as a top level priority as part of a five year National Lottery-funded project. The £226,000 scheme was supported with £60,000 from the Mend Our Mountains campaign,which was created by the British Mountaineering Council amid fears that the UK's 15 national parks did not have the resources to counter the impact of more people taking to the hills.
Work began on Beinn a'Ghlo's Carn Liath path last summer and the prominent damage was narrowed down to a neatly defined path line.
The route was formally reopened by local SNP MSP John Swinney. "Beinn a'Ghlo is one of Scotland's most iconic walks," he said.
"I am delighted that, as a result of significant financial investment, it's been repaired and is now accessible and enjoyable for members of the public once more.
"This is a prime example of various stakeholders working together for the common good."
OATS chairman Ian Moffett added: "The state of the path was so bad that it was ranked a Priority One, the highest priority possible in path survey methodology.
"Some areas required only a light touch approach, but other sections required full hand build techniques to repair significant damage.
"In all, some 342 metres of raised path surface was constructed, with 407 metres of side drains and 943 metres of stone pitching.
"The works have resulted in an improvement to the landscape and vegetation on Beinn a'Ghlo, a better, safer experience for walkers and, of course, the experience has contributed to our path trainees gaining their SVQs in Environmental Conservation."
Cairngorms Natinonal Park Authority board member Doug McAdam welcomed the improvements.
"Beinn a'Ghlo is one of my favourite ridge walks in Scotland," he said.
"I have climbed it many times over the years, so have seen first hand the increasing damage brought by unintentional but sustained user pressure."