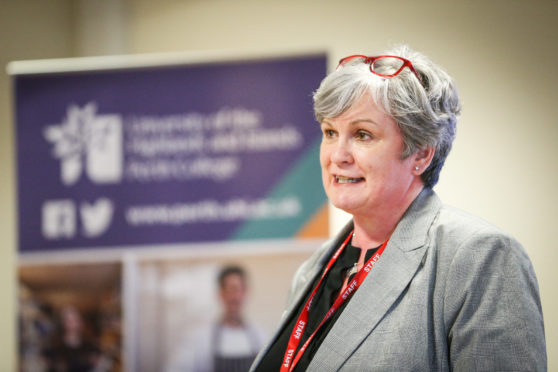 The head of Perth College is working with staff and trade unions on an emergency cost-saving plan, after a report by Scotland's public spending watchdog forecast a major funding shortfall.
The Fair City college, part of the University of Highlands and Island, faces a deficit in its 2019/20 budget, Auditor General for Scotland Caroline Gardner has warned.
Perth Principal Dr Margaret Cook spoke of "extreme" challenges and increased cost pressures facing the college as she began the battle for long term, financial sustainability.
According to the Audit Scotland study, which shows a widening gap between income and spending across the country's further education sector, Perth College is on course to overspend its budget by 5.7%, putting it among the poorest performers financially.
Dr Cook, who will welcome the Princess Royal to Thursday's graduation ceremony, said she hopes to avoid an impact on staff and students.
"Absorbing the additional operating costs has become extremely challenging and we need to identify ways of reducing our costs going forward," she said. "We are undertaking early consultations with our board, our staff and with the trade unions on the range of options that we can implement in order to achieve these savings.
"We will endeavour to achieve this with the least possible impact on our students and staff, and remain committed to continuing to deliver an excellent student experience."
Dr Cook welcomed another part of Ms Gardner's report which shows the college had the third highest student satisfaction rate in Scotland at 96.2%, with more than 85% achieving "positive destinations."
She said: "This highlights that the experience of our students is important to us and this is due to the hard work of our staff and students."
According to Audit Scotland, colleges face rising pressures and an increase in Scottish Government revenue funding for 2019-20 covers only the additional costs of harmonising pay and conditions across the sector – excluding cost-of-living increases and increases in employers' pension contributions.
Perth College recently blamed "significant financial challenges" for its decision to shut learning centres in Crieff, Kinross and Blairgowrie.
Local SNP MSP John Swinney, cabinet secretary for education, said: "The Scottish Government has increased the resources available to the college sector, which is an important contribution to the financial sustainability of colleges.
"I will continue to engage closely with Perth College UHI on how this increased level of funding impacts on the college."
Conservative MSP for Mid-Scotland and Fife Liz Smith added: "This is disturbing news and must be a great worry to college staff and students.
"Perth College UHI are obviously looking to make savings in some departments and I will be keeping a close eye on the situation to see what actually happens."