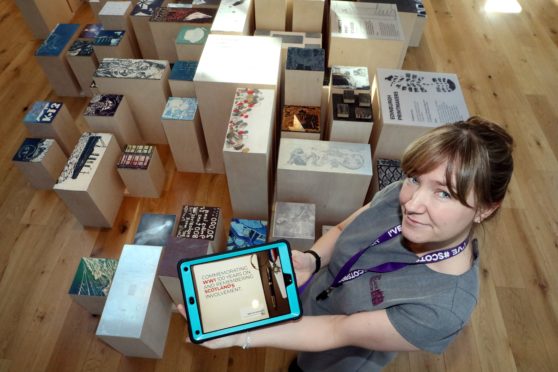 Scotland's role in the First World War is being explored through the work of 100 young artists in a new exhibition in Perth.
The installation, entitled What Do We Learn From All Th1s? is being showcased at the Black Watch Castle and Museum in the city.
The work is inspired by 100 stories gathered from all over Scotland, and marks the culmination of Scotland's World War One Centenary programme.
Students as young as 14 have contributed to the touring exhibition, which combines traditional printmaking with digital technology.
The artist's prints have been mounted on wooden plinths and arranged into a map of Scotland.
The display was put together by the Glasgow-based design agency Lateral North. Its director Tom Smith said: "From individual acts of valour on the battlefield to naval tragedies off Scotland's coast, from the thousands of workers filling factories at home to the brave members of the Scottish Women's Hospitals at the Western Front, the project takes in a wide range of stories and subjects that will resonate throughout Scotland."
Chief executive of the Black Watch Museum, Anne Kinnes said the attraction was privileged to have been selected to host the installation as it tours Scotland.
"It is important that we continue to remember the stories of bravery and sacrifice, and to ensure they are passed on to future generations," she said.
"Many of the Scots who lost their lives a century ago were the same age as the artists contributing to this unique installation, which explores and re-tells their stories."
Visitors to the exhibition can explore each story in detail using an iPad through augmented reality technology.
This project has been made possible by the Scottish Print Network, and was created in partnership with the Scottish Parliament.
Cabinet Secretary for Culture, Tourism and External Affairs, Fiona Hyslop said: "It is important that we continue to remember World War One and ensure the stories of bravery and sacrifice continue to be passed on.
"The What Do We Learn From All Th1s? project aims to provide a perspective on the broad impact of the war on individuals and communities, as seen through the eyes of the next generation."
The exhibition opened on September 27 and is on display until October 23.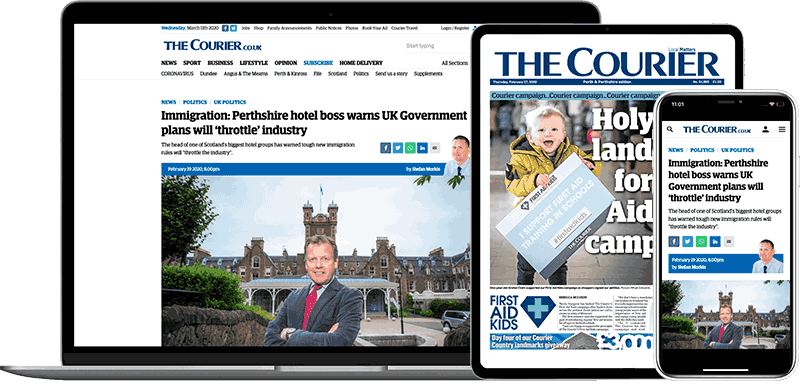 Help support quality local journalism … become a digital subscriber to The Courier
For as little as £5.99 a month you can access all of our content, including Premium articles.
Subscribe