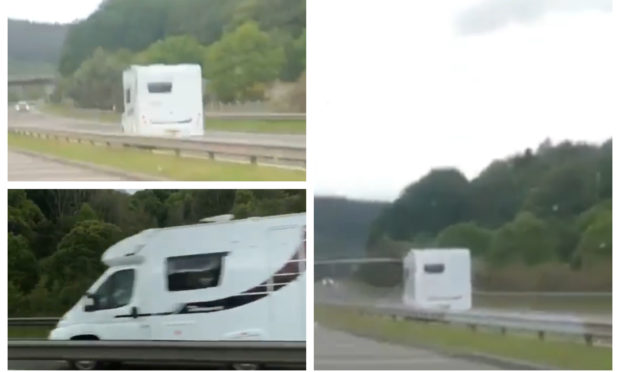 New technology aimed at cutting wrong-way road crashes could be a "life-saver" in Perthshire.
The innovative electronic warning signs are triggered when drivers take a wrong turning on to a slip road.
They are being tested by road maintenance firm Amey at locations in West Lothian and East Lothian and, if successful, could be rolled out to trunk roads across the country.
Cross-party politicians in Tayside say the devices would be a welcome addition to local roads and could curb a recent spate of crashes.
An elderly driver was injured after he drove the wrong way down the M90, near Kintillo, in March. Footage emerged of his care colliding head-on with three other vehicles.
In May, a camper van was spotted driving "at full speed" down the wrong side of the A9, near Ballinluig. The incident triggered calls for increased safety measures.
On another occasion earlier this year, another elderly motorist had to forfeit his license after driving on the wrong side of the M90 between Friarton Bridge and Broxden.
Incidents prompted Police Scotland and Road Safety Scotland to launch a "Drive on the Left" campaign – aimed at tourists – in Highland Perthshire earlier this summer.
Local SNP MP Pete Wishart said: "I would be delighted to see this new technology brought to Perthshire. It could make a real difference to driver safety.
"There has been a few instances here where drivers have been known to turn into the wrong lane. I know examples where tourists have gone the wrong way down the road because they've been distracted by the scenery."
Murdo Fraser, Tory MSP for Mid-Scotland and Fife, who voiced his backing for the Drive On the Left campaign, said the system could be a "potential life-saver"
"This sounds like really useful, innovative technology which could be used to improve road safety on local roads in Perthshire," he said. "This new technology has already been supported by motoring group IAM RoadSmart and I feel that anything that could be used to potentially save lives has to be welcomed."
A spokeswoman for Amey said it was testing out the system at junction two of the M9 at Philipstoun, and at Wallyford on the A1.
Neil Greig, of IAM Roadsmart welcomed the scheme. "This is the kid of action we have been calling for," he said. "Wrong-way crashes tend to involve older drivers, or young drivers under the influence of drink or drugs.
"Eradicating deliberate illegal behaviour may be more difficult but this system does look like an excellent solution for those drivers who may have been confused or momentarily distracted."