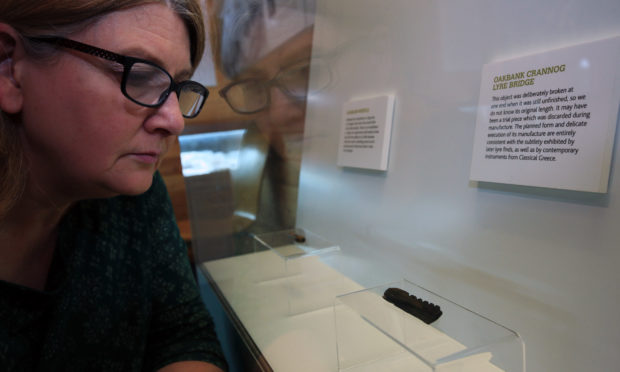 Two ancient musical instruments dating back around 2,500 years have formed the centrepiece of a new exhibition launched at the Scottish Crannog Centre in Kenmore.
The objects have been identified by musical archaeologists as "almost certainly" a small whistle and the bridge from a stringed instrument – believed to be a lyre.
The artefacts are now being displayed at the new year-long Bridge That Connects Communities 2,500 Years Apart exhibition that was launched at Crannog Centre on Saturday.
The bridge from the lyre was uncovered during an underwater excavation at Fearnan, on the banks of Loch Tay, and is thought to be a piece of one of the earliest musical instruments found in western Europe.
The new exhibition surrounding the musical instruments was put together after the crannog museum aunched an investigation into the item's origins, with the help of £34,100  from the National Lottery.
Frances Collinson, curator at the Scottish Crannog Centre, explained that the exhibition will look at how traditional song and poetry impacted life in the crannogs.
Frances said: "After a whirlwind year of events, activities and creating new displays, we can now showcase our very special collection of 2,500 year old artefacts, including the rare and special fragments of musical instruments which give us a glimpse into the cultural life of the crannog dwellers.
"Replicas of the whistle has produced two distinct notes and we think it was used for signalling, hunting and herding.
"The bridge was delicately made but seems to have been deliberately broken when it was still unfinished, so it may have been a trial piece.
"It is similar to other lyre bridge finds from the post-Roman era and is evidence of the cultural life of the crannog dwellers, especially poetic tradition and song.
"These finds are extremely significant and gives us a glimpse into life on Loch Tay 2,500 years ago."
At the launch event on Saturday visitors were treated to tales of Scottish folklore from storyteller Claire Hewitt and traditional songs by harpist Eve Watters.
The Crannog Centre opens from 10am, seven days a week, and the exhibition will run for a year.
There will also be the centres regular technology, cooking and textile demonstrations and museum goers will get to see and play the hand-built lyres which were the results of a historical music residency with expert Barnaby Brown in September.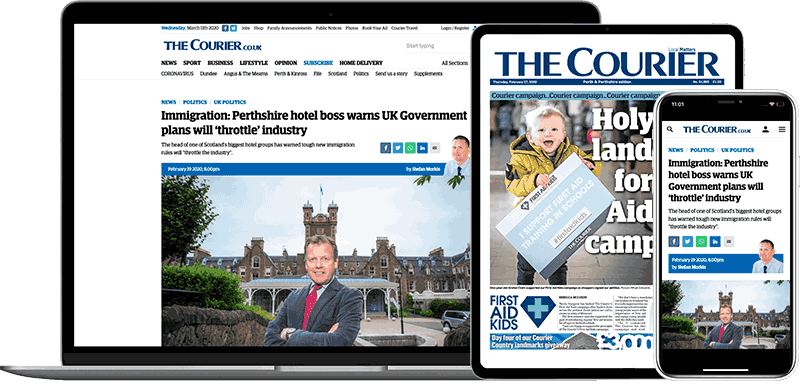 Help support quality local journalism … become a digital subscriber to The Courier
For as little as £5.99 a month you can access all of our content, including Premium articles.
Subscribe