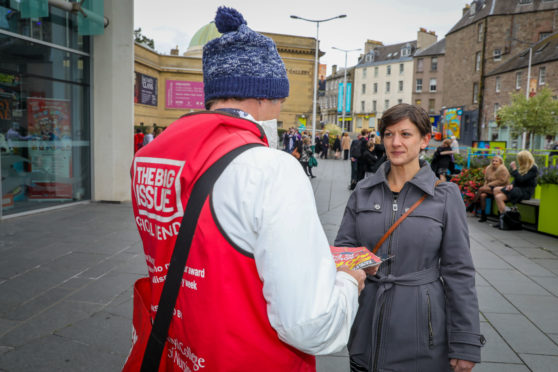 Supporters are being urged to donate money to buy smartphones for Big Issue vendors so they can accept contactless payments.
Perth social worker Claire Ferrier launched the campaign in aid of the Fair City's sellers after realising she rarely has money on her to pay for the magazine when she runs into them in the street.
Claire said: "I often buy the Big Issue but mostly though I don't have change or cash on me at all. People rarely carry money these days.
"I heard a few weeks ago that they are now able to take contactless.
"I asked one of the guys  if they were all using it and he said that the crux was that they would need to own smartphones and this stopped them using it. But he said he would be delighted to get one."
The introduction of contactless payments for Big Issue sellers follows a successful trial in cities between December 2018 and May 2019.
Vendors reported 25% of their sales had been made using the new technology and some saw their sales increase by a third.
Sellers are able to take the payments by installing an app called iZettle onto their smartphones.
Brian, a Big Issue vendor in Perth who trades outside Marks and Spencer, welcomed Claire's campaign.
He said: "I was very touched by her idea. Most of the people don't carry cash now, it's all plastic, so it should help our sales.
"Vendors from other areas have said how much it has helped their sales so when she suggested it I thought it was very nice."
Claire is now trying to raise a few hundred pounds to purchase smartphones, phone protectors and sim cards for the Big Issue sellers in Perth.
She said: "It doesn't cost that much money. I wouldn't be able to buy them all myself but I thought I could fundraise."
Russell Blackman, managing director of the Big Issue, said the initiative would help vendors who have difficulty accessing mainstream financial services.
He said: "Big Issue vendors are microentrepreneurs, effectively running their own small businesses.
"It has long been our intention to provide our vendors with the opportunity to cater for their customers' needs and increase their ability to earn a legitimate income."
To donate to the campaign visit www.gofundme.com/f/smart-phones-for-big-issue-vendors