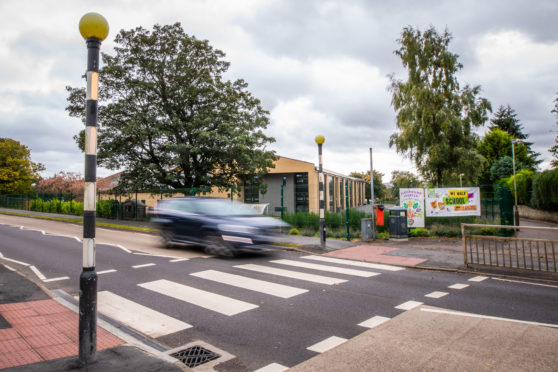 A pedestrian crossing has been described as an "accident waiting to happen" amid complaints about drivers failing to stop.
The crossing on Kinross' Station Road is just outside the town's primary school, and is frequently used by pupils.
It is currently manned by a crossing patrol person during school hours but the service is to be withdrawn, prompting fears a child could be injured.
Councillors voted to axe crossing patrols at sites where there are already pedestrian crossings in place, at a meeting earlier this year.
The current zebra crossing is set to be replaced with a puffin crossing, where traffic is stopped by traffic lights and sensors detect if pedestrians are still waiting.
Liberal Democrat councillor Willie Roberson said: "There's a constant problem with zebra crossings where drivers either don't notice pedestrians or don't stop. It's a serious danger.
"The council are planning to upgrade these to puffin crossings to make them safer.
"The crazy thing is the council doesn't have a statutory duty to make sure children get to school safely. If it was then they'd be forced to have crossing patrollers.
They are cutting the patrollers but the cost of a child's life is not worth it. I am very unhappy that the decision was made to remove crossing patrollers from busy main roads, even if there is a puffin crossing."
Posting online, local Val Lockhart added: "Twice in one day, standing at the zebra crossing on Station Road in Kinross, not surprised that cars didn't stop but this fills me with fear now that there will be no lollipop lady at busy school times.
"Can the local councillors put their hands on their hearts and say they are 100% sure that every car will stop when children are crossing or will they wait until a child is hurt, or worse before they reconsider?"
Sarah Lamont added: "I watched a boy waiting to cross at lunchtime last week, my heart was in my mouth as three different cars carried on driving, even although one coming from the other direction had stopped for the boy.
"He must have been in about p4/p5 and it just filled me with dread. He obviously has been taught not to cross until all stationary but not all are as road wise."
A spokeswoman for Perth and Kinross Council said: ""As part of council approved savings, the decision to remove school crossing patrollers from zebra/light-controlled crossings was taken at lifelong learning committee on 30 January 2019.
"This is being done through a planned process and in conjunction with an assessment of each individual crossing.
"We should all encourage safe and responsible behaviours on the road that demonstrates respect and consideration for everyone's health and safety, and if anyone has concerns about matters such as vehicles driving over a crossing while pedestrians are using it, we would advise them to contact the police directly."