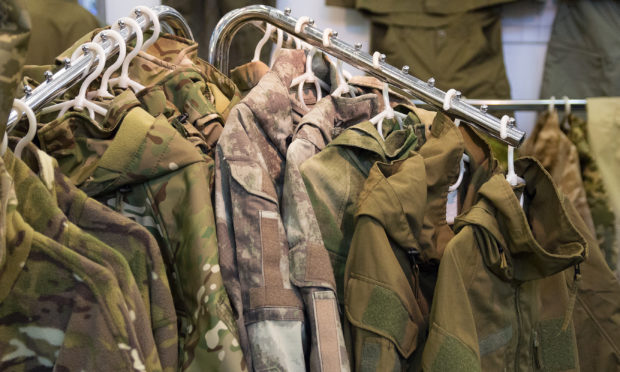 A married kennel owner who donned combat gear to claim he was a military spy, in a bid to impress the woman he was stalking, has been ordered to carry out unpaid work.
Nigel Hogg, of Crieff, who dressed up in full camouflage gear to claim he was setting off on a highly dangerous secret mission, has been told to stay away from his victim for two years.
Hogg was ordered to carry out 180 hours of unpaid work and a two-year non-harassment order was put in place.
He was also placed under social work supervision for a year at Perth Sheriff Court yesterday.
The court was told he had become infatuated with the woman after spotting her at a dance class and bombarded her with cards, letters and flowers before making the bizarre military claim.
Solicitor Pauline Cullerton, defending, said her client had been interested in pursuing a relationship and his subsequent behaviour had been "out of character".
Hogg had entered Birnam post office dressed in a kilt and told his victim's friend she should pass on information about his top-secret mission. The postmistress laughed off the 64-year-old's claims as nothing more than fantasy and Hogg left.
Around 40 minutes later he returned, having changed into military fatigues, and passed on a letter telling his victim "he may not return" from his mission.
Both women were alarmed by his odd behaviour and Hogg was reported to the police and arrested a short time later.
Hogg admitted "pretending being engaged in a secret military operation" as part of a stalking campaign.
He admitted stalking at various locations around Perthshire between April 18 and July 5 and causing her fear or alarm.
Hogg secretly put a letter in his victim's handbag after meeting her at a dance class at the Salutation Hotel in Perth and becoming besotted with her.
He admitted "making efforts to ascertain details of her private life" and asked the postmistress to pass on letters on his behalf.
The woman made it clear to Hogg she had no interest in becoming involved in a relationship with him, but he continued to stalk her.
After discovering her home address, he turned up with a card and a letter and left a bunch of flowers on a bench in her garden while she was out.
She continued to ignore his romantic pleadings until early July when Hogg – who is understood to have no military background – donned his combat clothing.