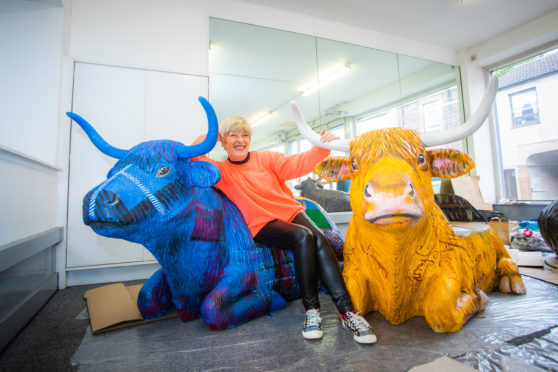 A Highland cow art trail has been auctioned in Crieff, raising nearly £25,000 for the Scottish Charity Air Ambulance.
The Crieff cowches, 11 brightly decorated life-sized Highland cow benches, were sold at a dinner event at the town's Hydro for a total of £24,900.
Bosses at SCAA say the money raised at the auction will "ultimately help save lives across the whole country".
The art trail was placed around the Strathearn town by Crieff Succeeds this summer in an attempt to bring more tourists to the area.
The biggest sale of the night was for the cowch sponsored by the Crieff Highland Gathering designed by local artist June McEwan.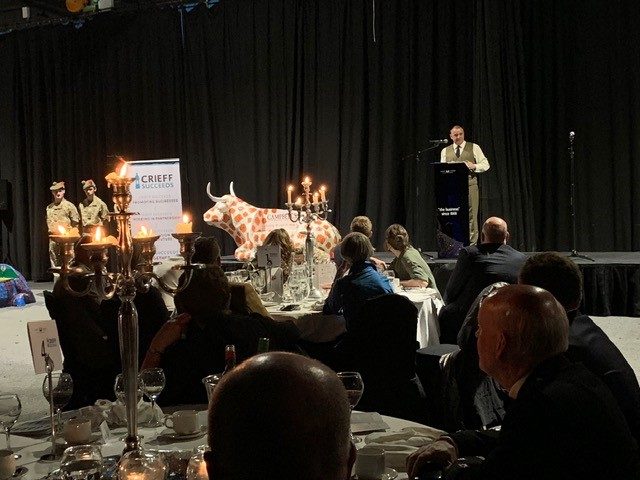 The Gathering battled hard to secure their own piece for a sum of £3,700 and now have aspirations to apply to Perth and Kinross Council for planning permission to install it permanently in the town.
The second highest bid of the night was £3,600 by local business owner Jock Dewar for the mosaic art work Sweetie Annie designed by Katy Galbraith.
Ruth William, of Crieff Succeeds, thanked everyone for their support and generosity.
She said: "It's been such a success and it has helped put Crieff on the map which is what it was intended to do.
"We're already looking towards what we can do next year. It won't be cowches but it will be something as exciting so watch this space."
Nick Harvey, SCAA's director of Fundraising and Communications, praised the Crieff Succeeds campaign, saying the creativity of the artists combined with the engagement of the community in supporting the initiative will help save lives.
Mr Harvey said: "We're really heartened and grateful to companies, groups and organisations everywhere for supporting our aeromedical retrieval service.
"Working with Crieff Succeeds to help fund vital emergency response care for those most in need across the whole of Scotland has been a fantastic and rewarding partnership.
"SCAA is the people's helicopter, and having the support of so many is humbling, we can't thank the community enough for their unwavering support of this life-saving service."
The night at Crieff Hydro included musical performaces by students from Morrison's Academy, comedian Jim McCreadie as master of ceremonies and auctioneer Jim McLaren.