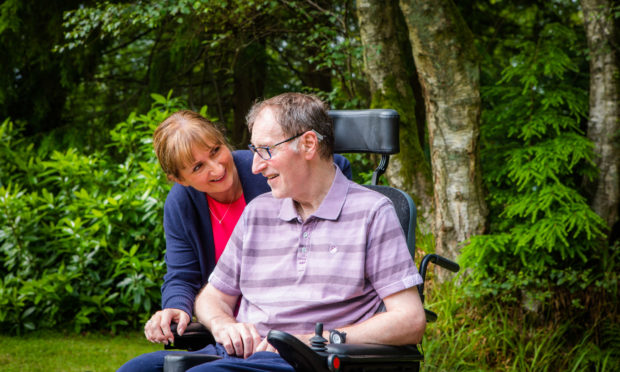 The wife of a former teacher who ended his life at a Swiss euthanasia clinic last month has said the current law on assisted dying has prevented her from grieving privately.
Elaine Selley's husband Richard battled motor neurone disease (MND) for four years and ended his life at Dignitas in Zurich on September 6.
The couple spent£10,000 travelling to the clinic from their Perthshire home after he became a "prisoner in his body".
Elaine has now vowed to continue the fight her husband started to legalise assisted dying in Scotland.
She said: "Emotionally, it's like I've been hit by a truck. The Dignitas experience adds a whole different complex level onto the grief process.
"If there was an assisted dying law I would have been able to grieve privately. The only reason there's been any publicity is because of the injustice and at that point in his life he wanted that choice and he was not allowed that choice in Scotland."
She said she felt a huge loyalty to the assisted dying campaign, due to her husband's high profile role in it.
"The last thing Richard wanted to be famous for this particular aspect but he felt so strongly about it," she said.
"I promised Richard I would carry on his work and what he had done before he died because it's really for all of us. It's so that at the time of our death we have that choice if we wish it.
"We could have a humane, safeguarded process in our own country for people in Richard's situation."
Elaine, from Glenalmond, travelled with her husband to Switzerland in the days before he died.
She said the experience had been draining, physically and emotionally.
"In general it's a horrible thing to have to do but to have to take a terminally ill man, who really is weak, to another country without any of his normal aids or support such as his hoist or pressure mattress is completely awful," she said.
"Dignitas are not involved until you actually reach their facility, so you have about 72 hours with no electric wheelchair. We had a manual wheelchair, which wasn't really suitable for Richard but there's nothing you can do.
"There were lots of different issues logistically – many of his supports had to be left behind.
"The whole journey was very difficult and would have been unnecessary if he had had the choice to make the decision at home."
Previous attempts to change the law were led by the MSP Margo MacDonald, who died in April 2014 after a battle against Parkinson's.
The idea was put before Holyrood twice, but her bills failed to receive parliamentary backing.