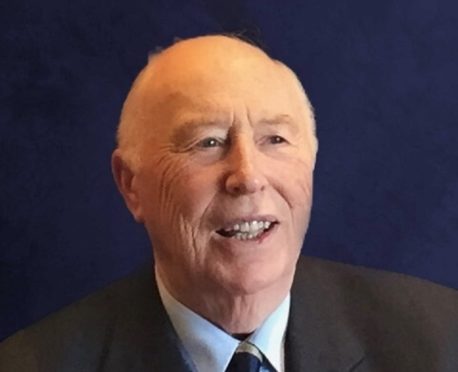 The funeral has taken place of  of highly respected Tayside consultant Andrew Gunn RD, FRCSEd, one of the country's foremost endocrine surgeons.
Born in Edinburgh, he was educated at the city's Holy Cross Academy and won a place to read medicine at Edinburgh University at the age of 17.
He graduated in 1959, pursuing a career in surgery and becoming a Fellow of the Royal College of Surgeons of Edinburgh at the age of 26.
While undertaking his surgical training in Edinburgh, Dr Gunn worked with Sir Michael Woodruff, the first British surgeon to perform a live donor kidney transplant in the UK.
He moved to Dundee, where he was influenced and inspired by the then-Professor of Surgery, Sir Donald Douglas and was particularly proud to win a Medical Research Council Clinical Research Fellowship at the National Institute for Medical Research in  London, working with Nobel laureate Sir Peter Medawar who was widely considered the father of transplant immunology.
Although subsequently offered surgical appointments in London, he loved Angus and accepted an appointment at the University of Dundee and later Ninewells Hospital, where he became established as one of the country's foremost endocrine surgeons.
During his career, Mr Gunn served as president of the British Association of Endocrine Surgeons, and on the Council of the Royal College of Surgeons of Edinburgh.
As an examiner for the RCS, he travelled widely throughout the UK and abroad and it was while leading a team of examiners in Nigeria the car they were travelling in was ambushed by a group of armed rebels and he and his colleagues were robbed at gun point.
Fortunately, the gunmen were spooked by an approaching car and although Mr Gunn lost the watch he had been given by his parents for his 21st birthday, all escaped without significant injury or loss of life.
Throughout his career he pursued a passion for research, and although forced to retire early from surgery due to a serious heart condition he and colleagues founded the research company Iatros Ltd, based in Dundee's Technology Park.
Following an approach from a United Nations agency, the company continued to explore immunological techniques aimed at reducing the spread of blood and water-borne diseases, including African Sleeping Sickness.
In 1996, Iatros Ltd received the presigious John Logie Baird Award for Innovation and Technology, presented by the Duke of Edinburgh.
He served for 30 years as a medical officer in the Royal Naval Reserve, based at Dundee's HMS Camperdown but training at home and abroad, including with the Royal Marines in Norway, at the Royal Naval Hospital, Malta and a period of recall to service at the Royal Naval Hospital, Haslar, during the Falklands conflict in 1982.
He was rewarded with the Reserve Decoration.
Mr Gunn, who was 83, lived in Letham, Angus and is survived by his wife, Deirdre, who he met as a young surgeon in Edinburgh, four children and 11 grandchildren.