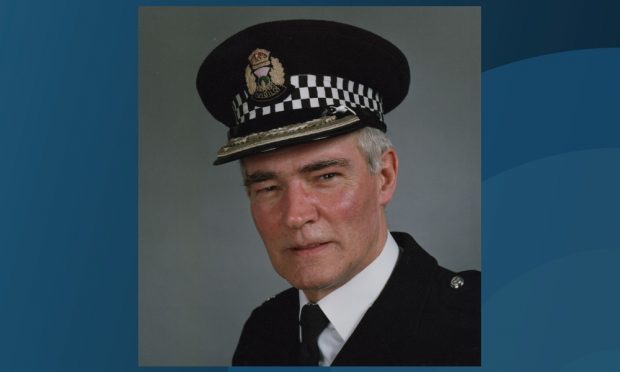 Decorated former police officer William Drummond has died at the age of 79.
Mr Drummond, who was awarded the MBE for services to Fife Police, retired in 1997 after working his way up to the rank of superintendent.
Popular and well respected, the former Dunfermline High School pupil joined the police weeks before his 30th birthday after working as an engineer, a spell with The Scots Guards and time as an insurance salesman.
His application to the force had to be accelerated as the cut-off point for admission was the age of 30.
He went on to win the Baton of Honour as the top recruit at the Scottish Police College and was accepted for the accelerated promotion scheme, spending a year with Highbury CID in London.
He married Nancy in 1965 and, now back in Fife, worked hard at developing his career.
He was quickly made a sergeant working at operations HQ in Dysart and then in Cupar.
Promoted to inspector, Mr Drummond served in St Andrews before rising to chief inspector at Levenmouth and eventually superintendent in Fife Police's eastern division.
Underpinning his work was a belief in both justice and the special relationship between the police and the community.
One of his lasting achievements was the introduction of the Appropriate Adult scheme which became of national and now international importance.
The scheme sees independent adults accompany vulnerable child and adult witnesses during police investigations.
Mr Drummond pulled together a spectrum of agencies including social work, procurator fiscal, citizen's advice and legal authorities to implement the initiative which is now used around the world.
Outwith policing, he and Nancy displayed a commitment to the community when they started Cupar Children's Gala, which is now firmly embedded in the town and still thriving.
After his retiral, Mr Drummond bought a canal boat and travelled many of Britain's historic waterways with Nancy.
A devoted family man, he was immensely proud that sons William and Alistair became successful lawyers and he was at his happiest when in the company of granddaughters Annabella, Darcey, Fleur and Esme.
Mr Drummond died peacefully in Edinburgh Royal Infirmary on October 29, surrounded by his family.
His funeral will be held at Dunfermline Crematorium on Thursday at 11.30am.