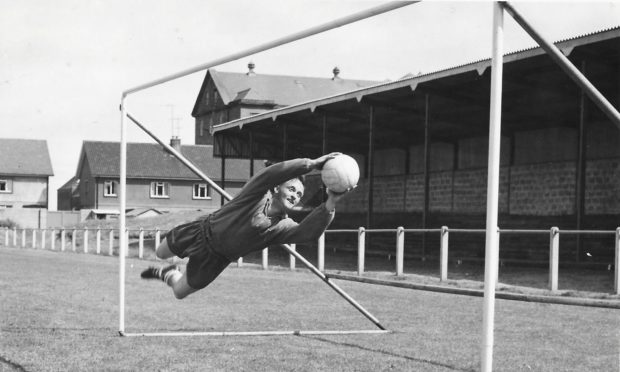 Musician, sportsman and environmental health director Leslie Allan Cameron has died aged 84.
Better known as Les, the celebrated former East Coast Jazz Band leader and Dundee FC goalkeeper died in Meadowlark Care Home in Forres after suffering a serious stroke eight months earlier.
The goalkeeper was part of the 1962 premier league winning Dundee squad and spent periods with Arbroath, Montrose and Forfar on professional contracts.
Music was an enduring passion. The East Coast Jazz Band was the Invercarse Hotel's resident band in the 60s and 70s and Les then played with his trio at the Angus Hotel for many years.
In later years, former Take That star Robbie Williams saluted Les as 'sir' when he played the pop star's 40th birthday party at Skibo Castle and he celebrated his 80th birthday playing piano in a jazz club in Paris until 5am.
His prowess at squash was equally impressive.
He represented Scotland at veterans and vintage level, including a four-year spell as Scottish champion and came third in the world championships.
Friends from Arbroath Golf club knew him as the "midnight golfer" so diligent was his practice regime.
Growing up in Nairn, he honed his sporting talents with Nairn County football club and the town's cricket club before performing his National Service in the medical corps in Aldershot, where he was promoted to sergeant.
His goalkeeping talents were in demand and he turned down a professional contract with Crystal Palace to return to Scotland.
He started a long career in environmental health in Dundee while still part of the Dundee FC squad.
There he met Margaret McKay, who despite professing to know little about either football or jazz, went on to become his wife.
They were married in 1963 in Dundee before moving to Arbroath to start life together. There they had children Derek and Gillian.
Les worked for Angus Council, promoted to director of environmental health at a relatively young age.
He returned to Nairn on retiring and, after having spent 40 years living in Arbroath, moved back to the house he had grown up in with Margaret.
Sadly, she had a stroke a few years later and Les spent the next eight years caring for her before she died.
He later met Gillian at a funeral of a friend and the couple married.
With music continuing to be a focus in Les' life, the pair enjoyed organising and performing in concerts and events both for charity and for fun. Les also made several CDs which were played at his funeral.
They moved to a flat in Firhall Village and enjoyed making new friends in the community there including the "grumpies" who met for fortnightly drinks to put the world to rights.
After his stroke, he was admitted to Raigmore and Nairn Hospitals before being moved to Meadowlark Care Home, where he was well cared for before passing away with his family at his side on September 6.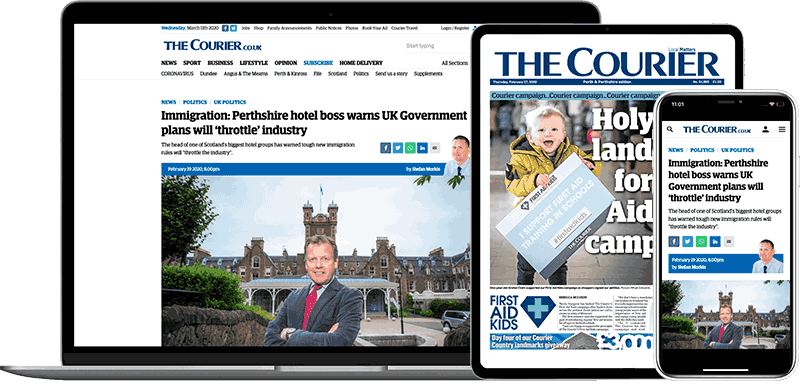 Help support quality local journalism … become a digital subscriber to The Courier
For as little as £5.99 a month you can access all of our content, including Premium articles.
Subscribe