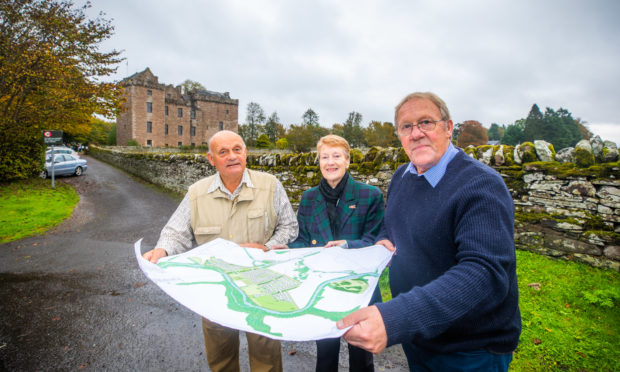 More than 100 concerned residents met to voice concerns over the contentious Almond Valley housing development.
Plans in principle were submitted to the council at the end of August for the first face of housing between Bertha Park and the proposed Perth West development.
This stage includes more than 280 houses, 56 flats, a sports pavilion and football pitches hugging the southern bank of the River Almond.
The wider Almond Valley area, which encompasses most of Ruthvenfield and Huntingtowerfield, has been earmarked for around 1,100 homes and a new school, with the existing Ruthvenfield Primary premises deemed not fit to handle to influx of residents.
Methven and District Community Council organised the event, which was held at the Huntingtower Hotel on Tuesday night.
Scores of anxious residents arrived at the premises where the watchdog group's chairman Kenny Simpson and Strathtay councillor Ian James took in the worries expressed by neighbours of the development.
Amongst the worries were that the recently installed Almondbank flood defence scheme could make the area, which is mainly fields at the moment, more prone to flooding.
Questions were also asked over the Pilkington Trust's plans for construction and maintenance of the riverside sports facilities, as well as site access for housebuilders and if there will be sufficient public services.
The deadline for commenting on the main part of the plans has already passed but Mr Simpson urged as many residents to put their woes in writing on the council's website on a linked application for access and associated works.
He said: "I have been fighting against this development for 30 years. We have won many battles but lost the war.
"Now we need to fight for the best benefits we can get. It is important that the area is not a building site for years to come and that we have the overall infrastructure like doctors and dentists.
"The community council will be putting in a letter with our thoughts but that's just one letter. I'd urge everyone affected to get their letters into Perth and Kinross Council immediately."
Mr James added: "Being on the planning and development management committee, I'm unable to give my views on the development. However, if the community think it would be better for me to give up my vote and campaign for them, I can.
"By its nature, there are good and bad things that come with developments of this size and no full plans have come forward yet."