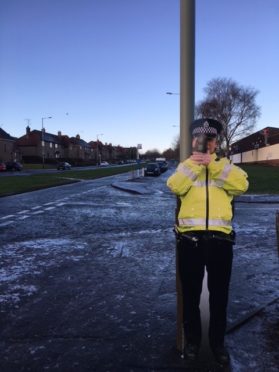 A pop-up policeman in Methven who was injured in the line of duty this summer has been kidnapped.
Pop-up Jim is one of three two-dimensional silhouettes of police officers holding speed guns to be stationed around the A85 by action group Child Safety Methven (CSM).
The committee, run by parents, raised money for a cut-out constable at each end of Methven, as well as one on the entrance to Almondbank, which Bear Scotland traffic surveys have shown have proved effective in combating speeding.
Pop-up Jim was snapped in half during his deployment in Almondbank, but his torso was later traced and reattached.
However, after returning to Methven, the cut out was taken hostage and his whereabouts remain unknown since vanishing at around 7pm on Monday evening.
This second setback has proved the final straw for campaigners CSM, who have now said they won't replace Jim if he doesn't show up.
---
>> Keep up to date with the latest news with The Courier newsletter
---
Group chairwoman Sarah Fergusson said: "I'm sad to confirm pop-up Jim, who was positioned at the war memorial, has been stolen.
"It's sad that this has happened once again, especially when the village residents had contributed to purchasing him.
"We have been fundraising for more pop-up police but we won't replace him yet. There are people who aren't in agreement with having him stationed there or think it's amusing to damage or steal him."
Sarah is appealing to dog walkers to keep an eye out for Jim "having a lie down" somewhere in the village and will reinstate him to his post if recovered.
Each officer costs around £250 to produce and install, funded so far by the community council, but that isn't the only expense involved.
"I had also bought new padlocks when I moved him," Sarah said.
"It's disheartening as of the three officers, he had the biggest impact slowing cars coming in from Perth."
CSM has been campaigning for safer driving on the bustling trunk road through the village, and are next month meeting with representatives from Bear Scotland and Perth and Kinross Council to discuss traffic calming measures going forward.