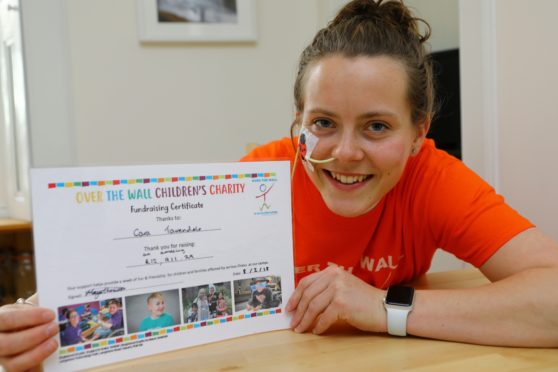 A Crieff woman has raised more than £12,000 for a charity which helped her when she became ill as a teenager.
Cara Tavendale, now 25, attended the camp as a child, after developing massive sepsis when her appendix burst when she was only 13.
Children's charity Over the Wall holds therapeutic camps, in Strathallan, designed to present children with the opportunity to live parts of their childhood that their illnesses may have taken.
This is done through running activities such as fishing, archery, talent shows and swimming.
The charity is striving to provide places for 1,200 children in the coming months, more than they have ever taken.
---
>> Keep up to date with the latest news with The Courier newsletter
---
Cara spoke of what Over the Wall means to her.
She said: "When I got ill, there wasn't much for people like myself. Then I heard about Over the Wall, which lets you just be a kid.
"No-one there ever talks about being ill, so you wouldn't know about they were ill unless you could visibly see it."
In a "case study" the charity wrote about Cara, she added: "My time at camp was simply amazing. It gave me the opportunity to be with children my own age, to chat to them and to just be a child.
"In hospital, I was often in with babies. Babies are lovely but there's not much chat.
"Camp gave me the opportunity to meet people my own age and we all had an understanding of what each one of us was going through without having to talk about it."
Multiple abdominal abscesses meant Cara required repeated surgery in her early teens.
As a result, she spent almost two months in a high dependency unit, and was a frequent patient in hospital over the following years.
As an adult Cara has worked tirelessly to give something back to the charity that helped her.
At age 23, she took on the first of 10 fundraising activities to mark 10 years since her appendix burst. These included a supermarket bag pack, a ceilidh and a sprint triathlon.
Despite her initial goal of raising £5000, Cara ended up raising more than £12,000 for Over the Wall.
On her fundraising, Cara said: "It is about what you can do, not what you can't do.
"Now I just focus on what I can do."
For anyone considering applying for the camp, Cara said: "Go for it. It will be one of the best things of your life. It is like a bubble and in that bubble you just have a great time.
"You see the same volunteers year after year because they love going back."
Applications for the Over the Wall camp can be made here.