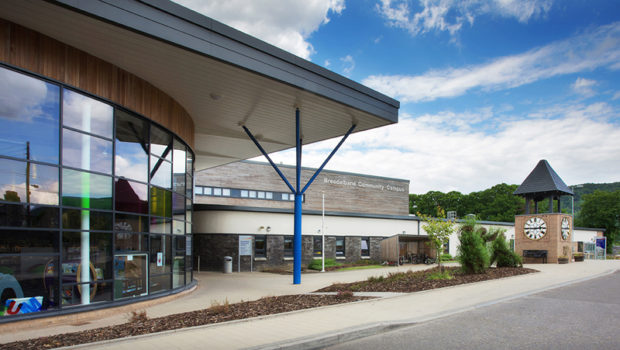 Parents at a Highland Perthshire school have warned the council to not "mess" with their children's education as more than 200 people attended an urgent town meeting in Aberfeldy.
Breadalbane Academy Parent Council urged politicians to protect school subjects in the wake of a lifelong learning committee meeting last month at which councillors agreed to explore the possibility of delivering S5 and S6 classes at Pitlochry High School.
At present, senior pupils from Pitlochry attend Breadalbane Academy and parents of pupils at the Aberfeldy school fear any change could result in a loss of subjects if pupil numbers fall.
The public meeting was attended by education secretary and deputy first minister John Swinney, MSP Murdo Fraser, ward councillors Mike Williamson, Xander McDade, John Duff and the SNP's Perth and Kinross education spokesman John Rebbeck.
Following the meeting Eleanor Laurie, co-chairwoman of Breadalbane Academy Parent Council, said: "We need to send the council a message – don't mess with our kids' education.
"We are pleased all councillors agreed that dividing education in Highland Perthshire by splitting S5 and S6 between Pitlochry and Breadalbane is 'off the table'.
"But it's not over yet. Now we need councillors to confirm that statement. We all heard them say it. We need it in writing.
"We have a great school that offers a first-class education to all kids in Highland Perthshire. We need to protect that."
A steering group has been set up to explore the best options for both schools.
Depute First Minister John Swinney called for a better dialogue between Perth and Kinross Council and parents.
Mr Swinney said: "From last night's meeting, it is clear that there has been a breakdown in trust between the parents of Breadalbane Academy and Perth and Kinross Council.
"This is in no small part due to the lack of engagement and communication with parents, which has been a clear flaw of this consultation process.
"The only way to rebuild trust and find consensus is to have a transparent and evidence-based discussion about the future of education in Highland Perthshire."
Conservative councillor John Duff said: "I very much welcome the development of the Highland Perthshire Learning Partnership which follows on from the council's extensive engagement and consultation with parents, pupils, staff and residents in Highland Perthshire.
"I made it quite clear that the options of all of S5 and S6 being delivered from Pitlochry High School for Pitlochry pupils was rejected as detrimental at the September meeting of lifelong learning (committee).
"As was any suggestion that S4 should move from Pitlochry to Breadalbane.
"The steering group will consider if there is a way in which some S5/S6 pupils could take some lessons on some occasions from Pitlochry High School, provided this is not detrimental to education at Breadalbane.
"This may or may not be a possibility."
The parent council has also launched a Save Our Subjects petition which has been signed by over 640 people.
The petition is available at www.change.org/p/save-our-subjects-tell-perth-kinross-council-pkc-to-halt-plans-which-threaten-breadalbane-academy-curriculum