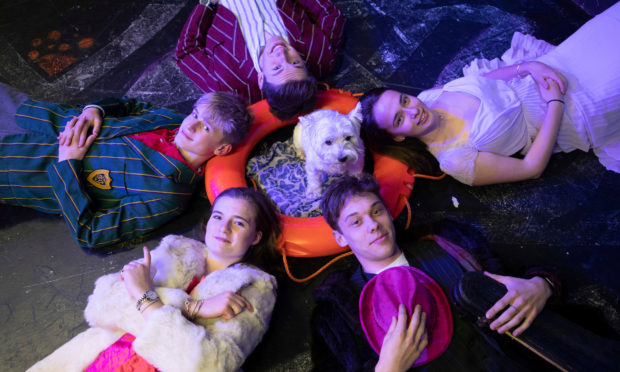 A West Highland terrier could have landed a lead role in a Perthshire school's latest production.
Lottie has been joining in with rehearsals for Glenalmond College's senior musical Anything Goes and is now being considered for a place in the show when the curtain raises later this month.
The four-legged favourite is expected to appear as Cheeky, who goes on an ocean voyage with her owner, a well-heeled domineering widow.
Lottie, who belongs to the school's musical director Tim Ridley, took the 34-strong cast by surprise when she trotted on stage and started getting involved in the show.
The musical, featuring classic Cole Porter tunes including You're The Top and I Get A Kick Out of You, begins its four-night run at the school's theatre from November 28.
In addition to Lottie, several teaching staff will also be joining the cast, alongside a nine-piece band.
Theatre director Liz Moss said: "We have some really talented young actors in our senior years and Anything Goes will give them a chance to shine in a production which depends on teamwork and impeccable timing.
"One of my favourite experiences in teaching drama is watching the transformation which occurs when the pupils go in front of a live audience.
"It gives them a huge lift to get that interaction with the audience."
She said Anything Goes was a chance for the school to work together on a large ensemble production.
Dr Ridley said the choice of musical was "fantastic", but not without its challenges.
"There are very few musicals which have so many brilliant songs," he said. "It is simply jam-packed with great music.
"I have always loved Anything Goes, but the highly complex jazz score makes it the toughest show I have ever directed musically."
The show is set in the 1930s and follows the antics of stowaway Billy Crocker and heiress Hope Harcourt on an ocean liner bound from New York to London.
The musical hit Broadway in 1934, based on a story by Guy Bolton and PG Wodehouse.