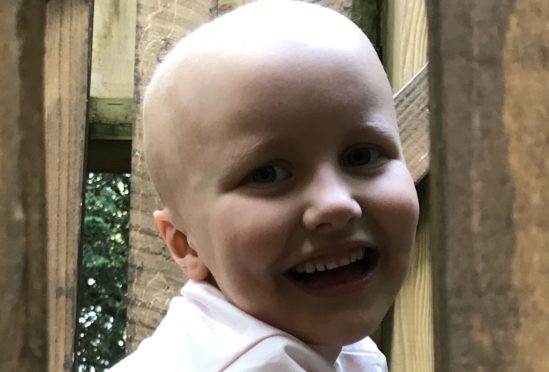 The family of a 6-year-old girl bravely fighting cancer has highlighted the "desperate" need to find a cure and raise further funding for research.
Ruby Stewart, of Inchture, has stage four alveolar rhabdomyosarcoma, a type of soft tissue trauma. She received the diagnosis at only four years old.
The complications facing Ruby and her family have prompted her parents to highlight what her mother Claire, described as a "desperate" need to find a cure and fund research.
She and her family had visited Disneyland last month, after which Ruby began to feel more pain in her hips and her legs became wobbly. She is now paraplegic, although her pain is now being managed and is now looking forward to a trip to Lapland later this winter.
Her family is now working tirelessly to highlight the need to fund research into finding a cure for the disease. It's complex nature means it is often hugely difficult to treat.
A Facebook page run by Kevin Anderson, a main driving force behind a book written to raise money for Ruby, detailed some of the complications in treating alveolar rhabdomyosarcoma.
The chemotherapy known to be effective against alveolar rhabdomyosarcoma is unlikely to be effective again in patients who have already received it. Agents used to combat it are also not always guaranteed to work.
Patients can receive radiotherapy to tackle the cancer but this takes complex planning, numerous scans and is only a temporary measure.
The social media post highlighted the great lengths Ruby's parents have gone to fight for her.
It said: "We have discussed Ruby's case with one of the best rhabdo doctors in the US.
"Ruby's treatment has been discussed at UK level expert groups. There is no roadmap for where to go next.
"The advice is we can try x. If that doesn't work we can try y or z.
"There may be a couple of clinical trial options but both require specific genetic markers which we don't know whether Ruby's cancer has."
Despite her cancer fight, Ruby has remained extremely brave.
On finding out she would be going to Lapland, she said: "Even if I'm sore on the outside I'll have a smile on the inside."