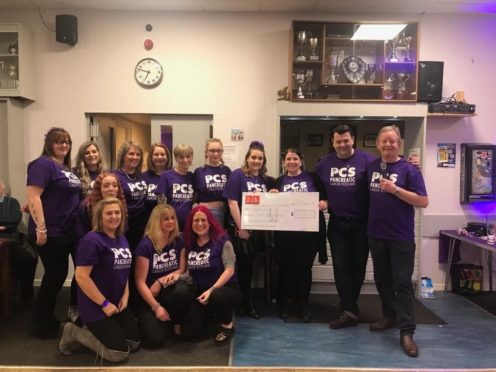 The family of a popular Perth teacher are welcoming friends and family to participate in a public walk to raise awareness of pancreatic cancer after she sadly lost her life to the disease.
School teacher Liz McKerchar passed away earlier this year, only a few months after receiving the pancreatic cancer diagnosis.
The purple walk organised by her family will take place on November 21,World Pancreatic Cancer Day, part of the wider Pancreatic Cancer Awareness Month of November.
Buildings including Perth Theatre will be lit purple on the night for the Pancreatic Cancers Purple Lights campaign.
Liz's husband Fred McKerchar, said: "My wife died in February from pancreatic cancer and she had previously had breast cancer.
"We have organised a walk in Perth around local landmarks turning purple for the event. The walk will start at Perth Theatre and take in the council headquarters, St Matthew's Church, Norie Miller Walk and Perth Bridge, which will all be lit up purple to show support for the campaign.
"It is more about making people aware of pancreatic cancer instead of fundraising as it's the cancer that has had the least development and research. Everyone is warmly welcome to join the walk."
Mr McKerchar also highlighted his late wife's strength and determination during her last days.
He said: "Two days before she died, Liz was doing fundraising for pancreatic cancer awareness, raising large amounts of money. It was a massive blow as she was very active."
The family said on this occasion the event aims to raise awareness of this type of cancer, rather than being a fundraiser. Pancreatic cancer has the lowest survival rate of all cancers. Symptoms include abdominal pain, weight loss, changed bowel habits and jaundice.
The family said: "There is not enough promotion about pancreatic cancer.
"We hope to get word out about the symptoms of pancreatic cancer, which will hopefully lead to earlier diagnosis and treatment."
The family was particularly keen to have the city's theatre lit in purple as it meant a lot to Mrs McKerchar, who had been a teacher at Oakbank Primary School.
Fred said: "Liz loved attending many shows, some of which included her own daughters, grandchildren and friends.
"Liz had a wide circle of friends who all loved attending the theatre with her , whether it be a musical, a dancing display or a concert."
Representatives from Pancreatic Cancer Scotland will be joining Liz's family on the walk and are bringing purple Tunnock's teacakes, produced by the company for the awareness month.
The walk will be followed by teas and coffees at Little Bird Coffee Shop, which has agreed to remain open late on the day.
Participants will meet at 6.45pm at the Mill Street entrance of Perth Theatre.