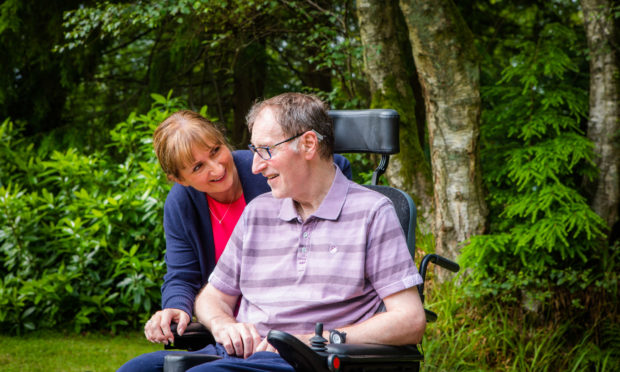 The widow of Perthshire right-to-die campaigner Richard Selley has revealed "overwhelming" support for legalised euthanasia in Scotland.
Elaine Selley said she had been inundated with letters backing her late husband's campaign.
Former headmaster Richard ended his life at the Dignitas clinic in Zurich after battling motor neurone disease (MND) for four years.
The couple spend £10,000 traveling to the Swiss facility from their home in Glenalmond, after Richard felt he had become "a prisoner in his body".
Elaine said she is determined to carry on Richard's battle to change Holyrood legislation so that people can die at home, surrounded by their loved ones.
She told the Scottish Sun on Sunday: "Richard left a legacy. I had no idea his story captured so many hearts and made people think about this issue to live positively with a terminal illness. That is what he did."
She said: "I've been overwhelmed with letters of support. There's hundreds from all over the world – from Canada, New Zealand, Dubai, North America and Hong Kong.
"We've had a great deal of letters supporting assisted dying from complete strangers who hope the law will be changed.
"What stands out is empathy for the case and the cause, people sharing end-of-life experiences of loved ones who want assisted dying and wish they had the opportunity."
On the day of his death, Richard issued a final plea to MSPs to let people slip away at home.
The 65-year-old expressed hope that people in his position would soon have the option to have a peaceful death at a time of their choosing.
"I hope that members of the Scottish Parliament support an assisted dying bill in the future," he said.
Richard's ashes were interred in Witheridge, Devon, last weekend.
Days later, Elaine opened a library in his name at Loretto School in Musselburgh, West Lothian, where Richard had worked for 30 years.
She said: "I promised I'd carry on what he started. I also want to raise awareness of motor neurone disease.
"It's so rare that there's not that impetus in terms of money and donations."
The Scottish Government has said it supports "greater public and personal discussion of bereavement, death, dying and care at the end of life".