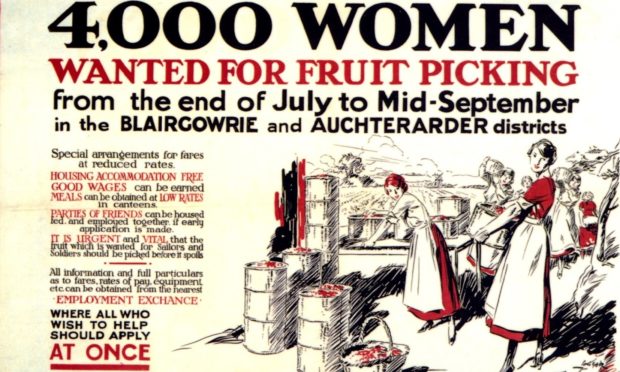 An eye-catching recruitment poster calling for 4,000 women to go berry picking in Perthshire has been unearthed as part of a new study of life during wartime.
The ad urges "parties of friends" to "apply at once" for fruit duties in Blairgowrie and Auchterarder.
"It is urgent and vital that the fruit which is wanted for sailors and soldiers should be picked before it spoils," potential applicants are urged.
The poster is among thousands of artefacts and documents kept in the Perth and Kinross Archive.
Researchers are giving local people the chance to share similar items, memories and stories from World War One, so that they can be preserved for future generations.
The Perth and Kinross Remembers team is holding a First World War "collecting day" at Strathearn Community Library, Crieff, on Thursday, November 28.
Contributors are encouraged to bring along original items such as diaries, letters and photographs to be included in the collection and kept for future research work.
The project team is also interested in studies and any material related to memorial events and projects that were carried out during the recent centenary period.
Staff will be on hand to digitise material and answer any questions.
The aim is to create an even more concise and comprehensive picture of how people in Perth and Kinross lived during the war.
Project officer for Perth and Kinross Remembers, Fiona Hall, said: "The collecting day is a great opportunity for people and families to bring items along that will become part of a legacy collection and help future generations of researchers and local communities remember the First World War.
"As we move further away from the First World War, it is even more important to remember and acknowledge the impact it had on the people of this area."
A family history workshop is also planned, to give locals the chance to learn more about their own heritage and the experiences of local people who lived through the war.
The collecting day will run from 2 to 6pm.