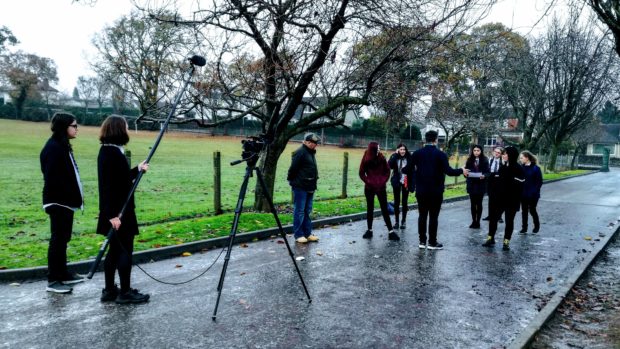 Perth secondary school pupils have produced a Gaelic short film as part of a Scotland-wide competition.
Gaelic learners at Perth Academy participated in the learning experience in their entry for the National Gaelic Short Film Competition, FilmG.
The workshop was one of 35 being delivered by FilmG across Scotland.
It gave the pupils a unique opportunity to work with a professional filmmaker and actor to make a five-minute short film in Scottish Gaelic.
FilmG Project Manager Eilidh Rankin said: "The FilmG workshops programme is a fantastic opportunity for high school pupils to get their teeth into a project and to speak Gaelic outwith the formal classroom environment.
"We encourage pupils to use their individual talents within the team, with room for everyone to shine.
"We hope FilmG continues to uncover budding writers, actors, prop-makers, make-up artists, interviewers, social media officers, camera operators and directors for many years to come."
The pupils' film tells the story of a young girl on her first day of school.
The girl is initially overwhelmed and lonely but soon finds a new friend who takes her to a class where she is given support.
Filmmaker Hamish MacLeod and veteran actor David Walker assisted the school pupils in making their film.
Mr MacLeod is a freelance videographer and a member of Gaelictronica band, Inyal.
His creativity and energy has proved to be an asset in his involvement in the pupils' film making process.
Mr Walker is an actor with many years experience, both on stage and on screen.
His acting work has spanned many genres and is usually, though not always, in his native Gaelic.
He has recently starred in the BBC Alba drama, Bannan.
The main youth category prize for Best Film is £1000.
Independent Filmmakers of secondary school age are also encouraged to go it alone, a £500 prize being available for the Best Young Filmmaker.
The recent addition of the Best Youth Group Film award has proved to be popular, with organisers of FilmG hoping to see a healthy number of entries in the category this year.
The film can be viewed when it goes live next month, with more information being available here.