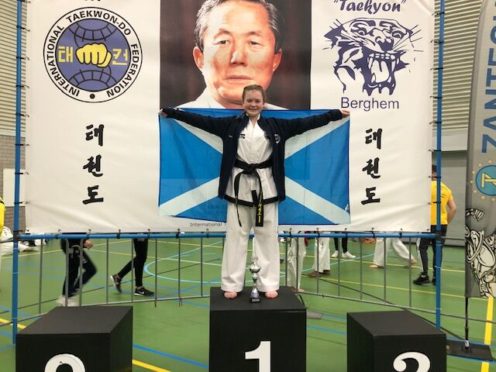 A Perthshire schoolgirl has become a Taekwondo World Champion.
Sophie Spark-James, 13, who attends Kilgraston School, secured the title after winning a gold and two silver medals at the World Championships held in Glasgow.
The haul is the latest in a series of triumphs for the budding sportswoman.
She said: "I love going to competitions and the thrill of seeing different locations.
"I feel like a different person when I put on my dobok."
In order to win the medals Sophie had to perform a series of "patterns" – the name given to attack and defence movements against imaginary opponents in the martial art.
Taekowndo students learn a new pattern each time they go up a grade and the moves become more difficult as students progress.
At competitions, the winner of each round moves onto the next round until there is an overall champion in the category.
Competitors perform their patterns and judges score them based on strength, accuracy and overall performance.
Sophie said her interest in the martial art only really flourished after she had begun her Taekwondo journey.
She was initially sceptical before attending her first class locally in 2015 when her mother asked her if she wanted to give it a go.
Sophie said: "Initially I said 'no' but after trying it, I really loved it."
She trains under the instruction of John Kelly of Taekwondo UKTC at Bells Sports Centre and Glenearn Campus.
She has racked up a string of successes during her four years of competing, in addition to last months' World Champion crown.
Earlier this year, she was crowned a European champion after winning a gold medal at the Dutch Open Taekwondo Competition.
She won the Junior Female Patterns event after she defeated 10 other competitors in her category.
Last weekend brought her most recent haul of medals, when she won another gold and two silvers at the Festival of Taekwondo in Wishaw.
She said: "I train twice a week in Perth for two hours, once per month in Edinburgh with Grand Master Harkess, and with the U18 Squad in Alloa.
"It's a big commitment."