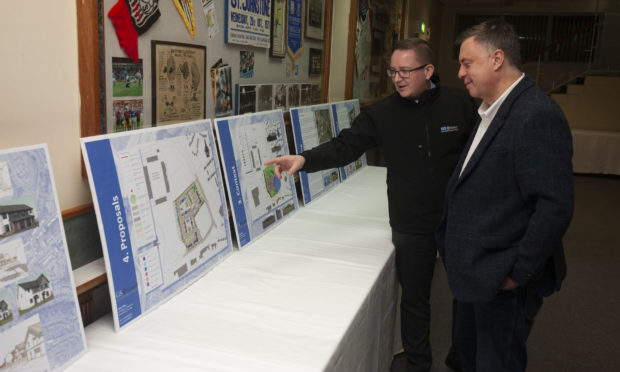 Plans for more than 100 new homes next to McDiarmid Park were outlined to residents in Perth at an event yesterday.
Housebuilder GS Brown set out its proposal for the scheme on the edge of the Tulloch area during a session at the St Johnstone FC stadium.
The St Madoes-based company, which built the stadium 30 years ago, showcased its early drafts for the former Newton Farm site .
It wants to construct 115 homes at the dilapidated Crieff Road potato farm and hopes to start construction work in the spring of 2021.
Perth and Kinross Council's local development plan says the location and scale of the surrounding building means there would be a strong preference for flats fronting onto the main road.
Around 28 homes are likely to be classed as affordable if the proposals are approved, with a mixture of townhouses, detached and semi-detached properties behind the flats.
Demolition crews have already moved in and flattened the former farm buildings to make way for any development that is approved.
A corner of the area earmarked for housing in the local authority's local development plan has been left out since GS Brown does not own the land.
A small number of neighbours took the chance to view new plans and quiz the company's planning bosses at yesterday's session.
A spokesperson for the firm said: "A number of design principles and mitigation measures are proposed to be included as more detailed proposals for the site emerge.
"These aim to minimise the landscape and visual effects of the components.
"A major planning application, once lodged in summer 2020 at the earliest, should be determined within four months."
The firm insisted it would be welcoming feedback and said it would base its final application on the comments it receives.
Perth City North SNP councillor John Rebbeck has welcomed the interest in developing the site.
He said: "It was very  interesting to see plans for the Newton Farm development.
"The land has effectively been derelict for some time and it would be good to see more  much needed affordable housing in the area.
"It is important, however, that local residents and stakeholders engage in the consultation process and I would urge people to continue doing that."