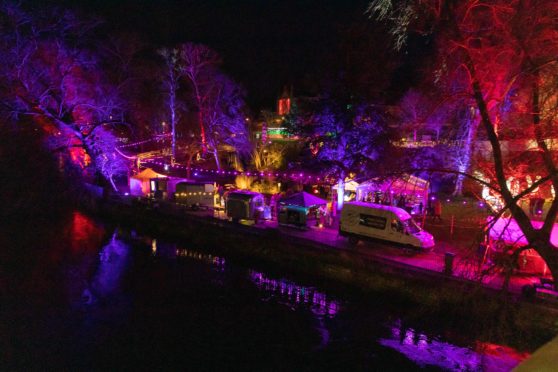 Council chiefs in Perth have struck a £50,000 deal for a series of dazzling lights shows that could deliver a massive boost to the city's night-time economy.
Riverside Light Nights will return next month with nine after-dark events promising Harry Potter stars, a 22ft long dinosaur and traditional Chinese performers.
Last year's programme helped bring in about 60,000 people to the city centre for illuminated walks along the historic Norie-Miller trail.
It is part of a wider strategy aimed at boosting businesses and improving perceptions, after a study revealed only a small portion of the local population set foot in the city centre after 6pm.
This year, for the first time, there will be admission charges for some of the most popular events. It will cost £5 to get into the School of Witchcraft and Wizardry on January 28 and 29, and Jurassic Perth on January 30 and 31. Under-fives and under-twos respectively will get in for free.
Perth and Kinross Council was unable to comment on the introduction of entry fees, but it is understood the two events are being organised by a third party.
The local authority has paid Edinburgh-based 21CC Group £49,920 to host the event, which is slightly shorter than 2019's 16-night programme.
A Robert Burns themed celebration with launch the Light Nights on January 25 and 26, followed by a free Music in the Park celebration on January 27.
During the wizards and witches extravaganza, revellers will get the chance to meet actors from the Harry Potter movies, and have their photos taken on a flying broom using a Hollywood-style green screen.
There will also be wand duelling classes, storytelling, a flying car and costume characters.
For Jurassic Perth, organisers have lined up Zeus, a 22ft long and 12ft high walking T-Rex. There will also be appearances throughout both nights from roaming raptors, a Spinosaurus called Spence and Tank the Triceratops.
Guests will also get the chance to climb inside a Dinosaur Dome for an immersive 360 degree cinematic experience.
The 2020 Riverside Nights will draw to a close on February 1 and 2, with two Chinese New Year shows. They will also mark the end of the city's extensive Winter Festival programme, which saw tens of thousands people descend into the city centre for the Christmas lights switch-on party featuring Atomic Kitten.
Last year, an average of around 4,000 visitors attended each Riverside Light Night event.