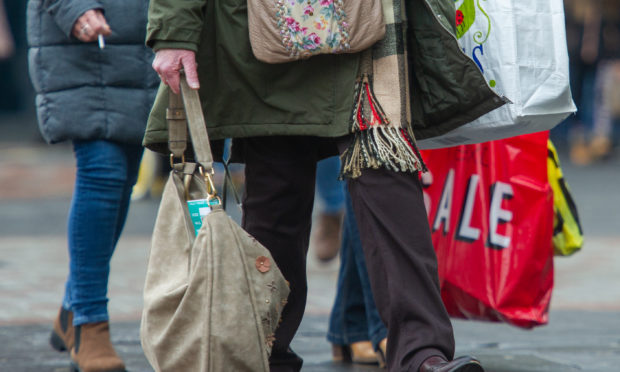 Thousands of shoppers descended on Perth High Street on Boxing Day to take advantage of the sales.
Locals flocked to the Fair City to check out bargains at big-name chains like Debenhams, Boots and Marks and Spencers.
However, only a handful of independent stores opened.
Kelly Brown, manager at Manifesto Clothing on South Street, said: "It seems to be busier than last year.
"We're offering 30% discounts, so we've been doing well."
Arlene Illand, assistant at the Proudfoot shoe store, also on South Street, said: "We have had a lot of browsers, carrying bags for Boots and M&S. It seems to be busier than last year.
BOXING DAY SALES: Dundee shoppers queue up from 4am as tens of thousands flock to city for bargains
BOXING DAY SALES: Kirkcaldy shoppers ditch town centre stores for retail park
"The Greggs across the street was heaving at lunchtime."
Mum-of-three Angela McKenzie, from Blairgowrie, said: "We came in to exchange a Christmas present that was the wrong size.
"The city is definitely busy, and it was a job finding a parking space. But we didn't see many bargains."
Meanwhile, tens of thousands of people took to Dundee city centre to take advantage of Boxing Day sales.
And in Fife, shopping centres and retail parks across the region were said to be busy.