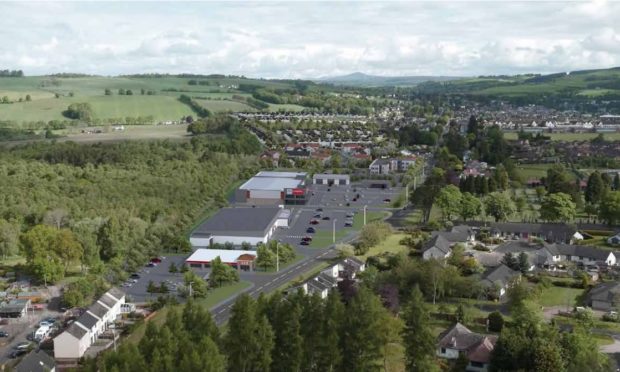 Planning chiefs have backed proposals for a massive out-of-town shopping complex on the edge of Blairgowrie.
Major national outlets will be part of the £7 million Westpark development, which is expected to generate around 150 jobs and deliver a welcome boost to the local economy.
Developers hope the retail park will attract and retain shoppers in Blairgowrie and prevent consumer leakage to Dundee and Perth.
Perth and Kinross Council planners have recommended the plan's approval, after a retail study showed it would not have a significant effect on town centre traders.
Councillors will be asked to grant planning permission at the next planning and development management committee meeting on January 15.
Alongside Lidl and Home Bargains, there are plans for three smaller shops on the site.
It is the first phase of a major expansion by the Westpark Partnership, with designs for hundreds of new homes across 70 acres of fields and woodlands.
Councillors backed a masterplan for the site last year, despite complaints from dozens of residents.
Planning officers said there was only one objection to the phase one proposal, which claimed the scheme was "inappropriate" and would lead to an increase in traffic.
Head of Planning and Development David Littlejohn said: "The construction of the five retail units would cost approximately £7 million and directly generate 45 to 50 construction jobs.
"Once operational, the assessment predicts that the cumulative annual turnover for all the units combined would be £16m. This will see retail spending being retained in Blairgowrie and reduce expenditure leakage to Perth and Dundee in particular."
Mr Littlejohn added: "It is accepted that the employment generated during both the construction and operational phases of the development would contribute positively to the Perth and Kinross local economy."
A spokesman for agents Yeoman McAllister Architects said: "Although the Blairgowrie area has a number of smaller food retail outlets, there is a lack of provision when it comes to major supermarkets and other discount stores.
"The proposed development offers alternatives to the limited options currently available."
Although not included in the current design, there is scope for a new restaurant and other establishments at the site.
Sole objector Alan Ross described the scheme as "our stolen future for short term profits to the rich".
He said: "This project is against all common sense on how we need to manage our local towns at a time when we are facing an existential climate breakdown."
Among those who opposed the original masterplan was Sir William Macpherson of Cluny, who stays at nearby Newton Castle. He said the housing scheme would be a "major intrusion" on farmland and would affect wildlife.