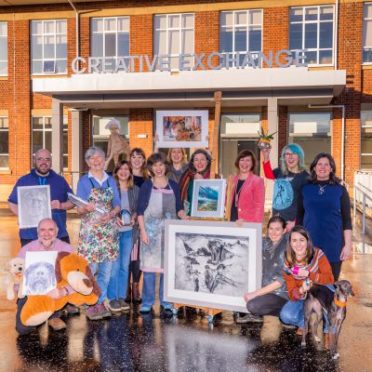 A new £4.5 million creative hub opening in Perth next month aims to boots Scotland's arts community.
The Perth Creative Exchange development has already begun welcoming around two dozen artists ahead of its official opening at the former St John's Primary School in February.
The project has been spearheaded by the charity and social enterprise, Workshop and Studio Provision (WASPS).
The organisation aims to provide high quality studios and workspaces for more than 1000 artists across Scotland by the end of the year.
Dunning ceramicist, Ceri White described the studio as being "perfect" for undertaking her work.
She had previously been working in a wooden shed.
She said: "I kitted it out when I moved to the area but in the winter it's barely usable it's so tiny, cold and damp.
"These days I need to work more efficiently and to have more space, so this studio is perfect for me."
The facility, a partnership with Perth and Kinross Council, aims to support the area's economy, enabling artists to build up their businesses in a sector in which earning a living can be tough.
WASPS Chief Executive Officer, Audrey Carlin said: "The Creative Exchange facility could make a real difference to Perth and the surrounding area, providing a much-needed boost to the artistic community while developing the creative economy.
"Scotland is rich with creative talent but the support needed for creatives to flourish is ad hoc. Our mission is to help solve that problem."
Perth and Kinross Council Leader, Murray Lyle said: "Perth and Kinross has one of Scotland's strongest creative sectors and feedback from artist and makers across the region, was that a game changer would be the provision of workspace and studios.
"The idea of the Creative Exchange is to provide a space where entrepreneurs, students and the community can meet, talk and spark collaboration and we're delighted to have achieved this."