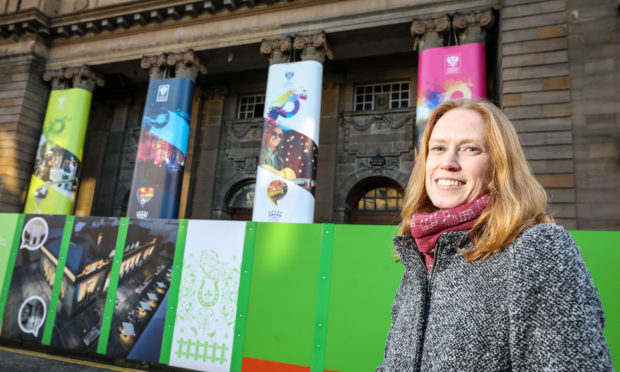 Tourism bosses have stressed Perth City Hall will not be a mini-V&A but the cultural venue could have the same effect on the city – with or without the Stone of Destiny.
The refurbishment project, which has a pricetag of more than £20m, will be completed in 2022 and could house the Stone of Destiny if The Commissioners for the Safeguarding of the Regalia vote in favour of Perth and Kinross Council's plea to bring home the artefact – a decision which is expected to be made imminently.
Now is the time to start preparing how to utilise the asset, according to VisitScotland chiefs.
The agency's regional leadership director Caroline Warburton said: "It's a really important project.
"We've had a number of cultural venues along the east coast that have opened over the last few years.
"We've had the V&A and Aberdeen Art Gallery and this is Perth's chance to have its moment in the cultural spotlight. This will give the opportunity to show so many more artefacts that tell the story of the city, the region and all the great things that are in the collections."
"It's not trying to replicate the V&A as a large single venue. This is about having a number of sites within Perth like the museum and art gallery and the Black Watch Museum and saying, walk between them. We're not just trying to be a small V&A, it's a different product altogether."
VisitScotland, along with other local tourism bodies, met with around 60 local business owners last night to discuss the impeding financial impact of the project.
"For a lot of businesses, this is something they've read about from a local resident's perspective, but now people are asking about the economic opportunities," she added.
"Dundee has seen a huge spike in visitor numbers as a result of the opening of the V&A. Perth City Hall is not going to be as big as the V&A but I would certainly hope that it will bring in more visitors to Perth."
Whether the stone on which Scottish monarchs were crowned returns to Perth or not is not something the body can support or oppose, but the benefit would be evident according to Caroline.
Caroline said: "If the Stone of Destiny was here, it would be an extra reason for people to come. From a local perspective, we can undoubtedly say that it gives us another hook and another story to tell about the links Perth has with national history.
"It's Culture Perth and Kinross's project along with the council, so it's for them to develop the branding and brief. They've got some way down planning that out so the big question is whether the Stone of Destiny will be there in the centre.
"If it's not, I would be very surprised if they don't have a plan B."