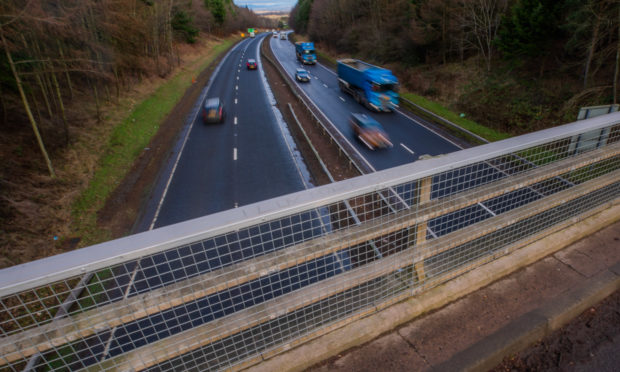 A pair of teenagers have been reported to police after chunks of wood were thrown into the path of cars from a bridge on the A9.
It happened on a footbridge on the outskirts of Perth in the early hours of Monday morning.
Police Scotland said investigators have traced two youngsters, aged 14 and 16, in connection with the incident.
A spokesman said they had been reported to the Youth Justice Management Unit. The panel will consider the case and agree a suitable response to the offence.
The behaviour has been condemned by local councillor Harry Coates, who has urged police to raise the issue with local schools.
"This is thoughtless and reckless and I know from my own experiences how dangerous it can be," he said.
"When I was a police officer in my 20s, one of my colleagues was driving under a bridge and a piece of brick was thrown at its car.
"It smashed through the windscreen and struck him on the head. He died as a result.
"I'm thankful that nothing as serious happened in this case, but maybe that was down to luck more than anything else."
The Tory councillor for Perth City North added: "I know that police regularly go into secondary schools to speak to pupils about safety and other issues, and I think they really need to address this kind of behaviour.
"It's not something that has been raised to me before, and I hope the message gets out to stop this from becoming a regular issue."
Police said the incident was reported at about 1.50am on a bridge between the Broxden and Inveralmond roundabouts.
It is understood a motorist pulled over to call 999 after his vehicle was nearly hit by a large piece of wood.
In October, The Courier reported that cars had been struck by stones in two incidents on the A92, close to Cardenden.
There were also incidents of mud missiles being thrown at passing vehicles on the same stretch.