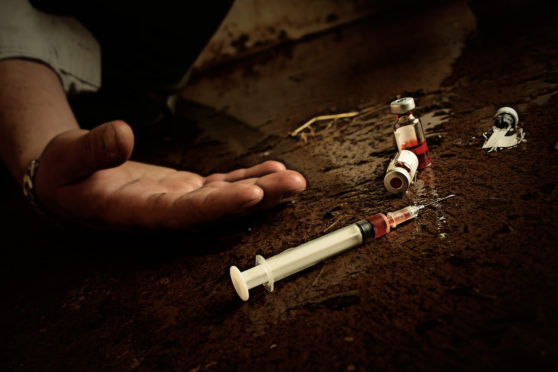 Vulnerable patients across Tayside saw addiction services appointments cancelled 3,100 times last year, 250 more than in 2018.
Patients in Perth and Kinross seeking medical assistance to help overcome problems with alcohol and drugs were worst hit, with an average of more than 100 cancellations per month – up more than 28% on 2018.
The region had a record 267 appointments cancelled in January 2019, the highest number in a single month on record and a 380% increase on the previous month.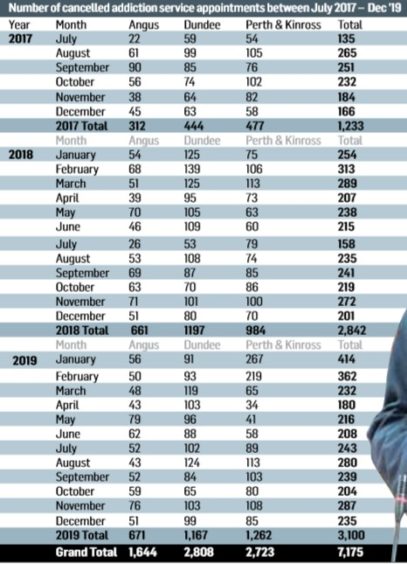 In 2018, 66 people died drug-related deaths in Dundee, while 1197 addiction services appointments were cancelled by the city's health and social care partnership. Last year, however, 30 fewer appointments were cancelled.
Statistics in Angus also remained steady, with an average of slightly more than 50 cancellations per month.
More than 1,800 appointments were pushed back to later dates across Tayside, with patients told less than 24 hours in advance 775 times.
The stretched Substance Misuse Service has been blighted by staff vacancies across the three Tayside health and social care partnerships but management insist patients who need urgent treatment will receive it externally if the in-house team is forced to cancel.
Healthcare bosses say they are working hard to fill vacancies which are causing cancellations and drop-in sessions are available which do not require appointments.
A spokesperson for Dundee Health and Social Care Partnership said: "We make every effort to avoid cancelling any arranged appointments as we are aware it impacts on patients and their families.
"Across all Tayside Substance Misuse Services we have experienced a high level of vacancies which has impacted on our ability to avoid cancelling appointments. There are also times when we experience unplanned staff absence which unfortunately leaves no option but to cancel appointments.
"The public should be reassured that where there are significant concerns relating to individuals, we prioritise rearranging appointments and include support from partner agencies."
Murdo Fraser MSP has pledged to ask the Scottish Government to support local healthcare bodies in plugging the gaps which have led to these "worrying" figures.
The Conservative said: "The level of cancelled addiction appointments in Perth and Kinross, with many being cancelled within 24 hours of the scheduled actual appointment, are very worrying and is something which must be looked at by NHS Tayside.
"These figures are extremely alarming and give great cause for concern, especially when you consider the high levels of drug deaths in Scotland at this time. Scotland's drug deaths have been described as a 'health emergency' with death rates being the worst in Europe.
"There must be a reason for the high number of cancelled addiction appointments and I will be asking the Scottish Government what more they can do to support NHS Tayside when it comes to the likes of recruitment, which may help in this case."