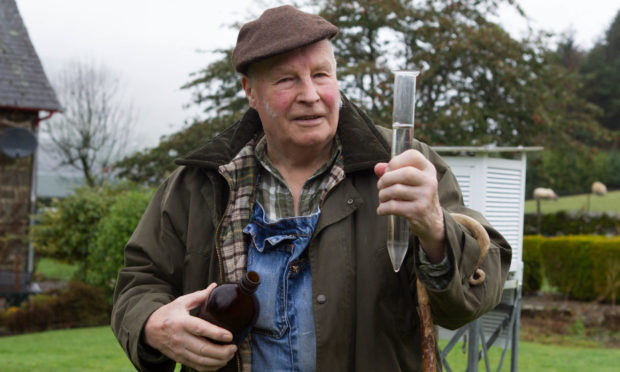 A volunteer weather observer who has recorded the elements for the Met Office from his garden in Highland Perthshire for more than 60 years has retired at the age of 92.
Mervyn Knox-Browne MBE has been monitoring the weather from his home at Ardtalnaig, near the shores of Loch Tay, since 1957 using instruments including a rain gauge, a sun dial, thermometers and anemometers and a Stevenson screen.
Originally from Co Tyrone, Mervyn has been studying the weather since he was 15 when, as a schoolboy at Glenalmond College, he asked his mother to send him a diary so he could record temperatures from a thermometer he had hidden under a bush on the school grounds.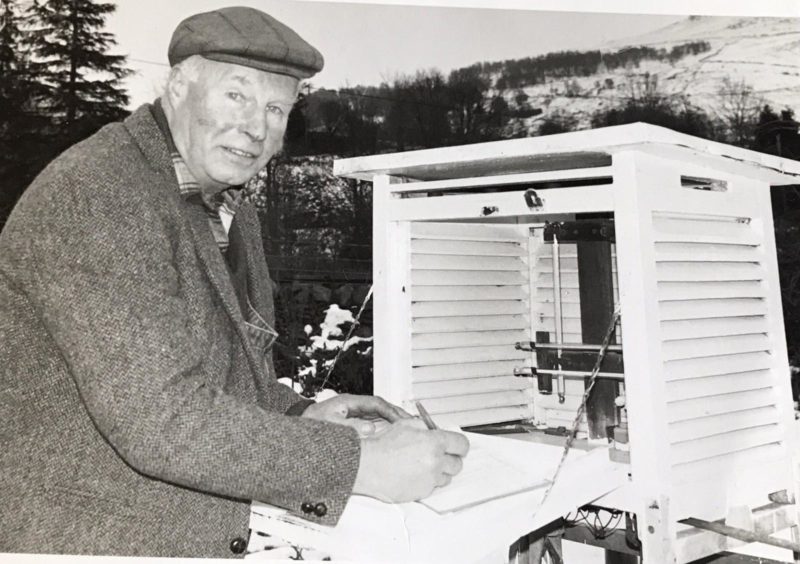 Since then, while working as a hill sheep farmer, Mervyn has provided the Met Office with daily readings at 9am, supplying current, daily maximum and daily minimum temperatures, daily rainfall and daily sunshine measurements.
The volunteer also has a separate rain gauge in the hills to measure the difference in rain fall due to the height and the Met Office still has records of snow levels on Ben Lawers and Ben More which were provided by Mervyn in the 1950s.
Mervyn has overcome a number of changes, including a shift to more automated systems, the removal of mercury from the thermometers due to health and safety concerns and the growth of the trees that overshadowed his sun recordings.
However, he said three hip and two knee replacements had taken their toll on his decades of dedicated service.
"What I did was of great personal interest and certainly a labour of love and I'm glad to have been of some use," he added.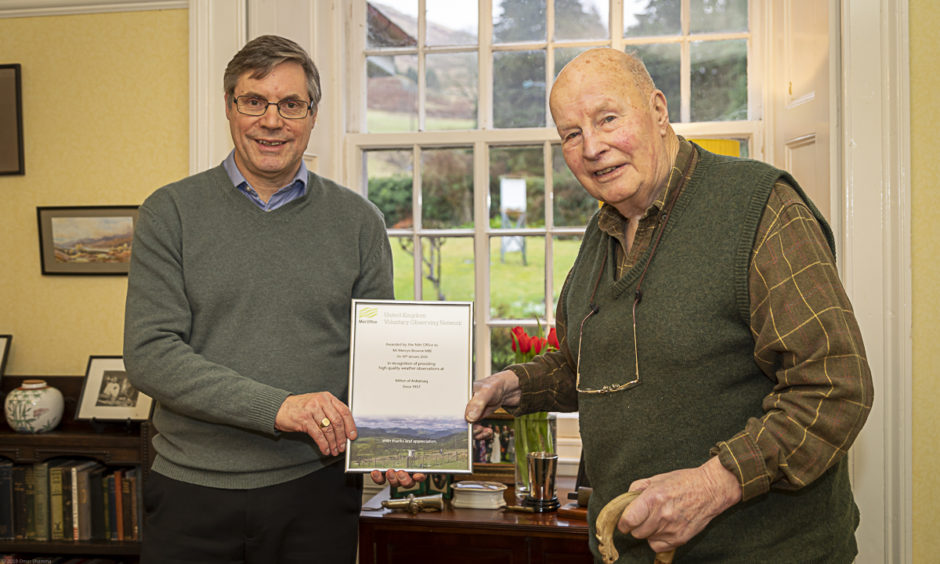 Paul Clews, metadata manager at the Met Office in Edinburgh, travelled to Loch Tay to meet Mervyn and present him with a long service award in recognition of his contribution.
Paul said: "The Met Office is sad to lose such excellent and invaluable observations and thank Mervyn for his commitment over the years and we wish him the very very best for the future."
Mervyn was made an MBE in 1999 for his conservation work and work in the community. He was a founder member of the Heather Trust and remains its vice-president. He was also a former president of the Perth area NFU.
Mervyn's daughter, Deirdre Yellowlees, said the weather and nature were in her dad's "DNA".
She said: "He just loves nature and how things work and he respects it.
"He got his award (MBE) for conservation before conservation was a buzz word.
"He's a fantastic person, he's climbed so many hills and and he loves the mountains.
"He has a deep soul connection to this land of his and all that supports it and gives it life."