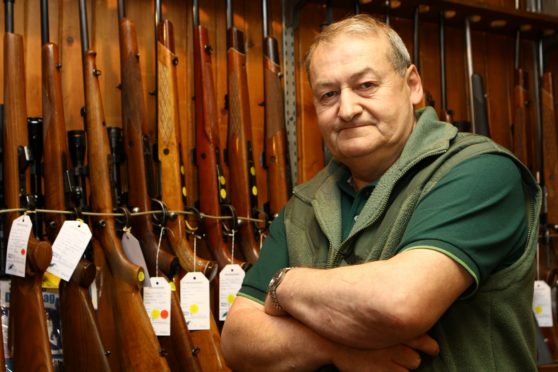 A Perth sporting shop, whose founder shaped the angling industry on the River Tay, will close permanently this month after more than a century in business.
The PD Malloch store on the High Street, which specialises fishing and hunting equipment, is due to shut on February 26.
The business, started by Peter Duncan Malloch and his brother James 149 years ago, is the latest in a growing list of high-profile names which have pulled out of Perth in recent weeks.
Department store Beales, St John's Shopping Centre's pop-up Disney Store and  clothing retailers Gap have all announced closure plans since the beginning of January.
Elaine Buntin, who runs the shop with her husband John, blamed the closure on falling trade.
She said there had been a general decline in business since the couple took over the reins in 2005.
"It's difficult to get young people to come into the shop," she said.
"I think they are probably more interested in video games than fishing and shooting. It is also time consuming to get a teaching certificate and things like that.
"There's no other store for fishing in Perth. There're ones in Glasgow and Edinburgh and I think in Dunfermline as well, but those are further away.
"You just need to come to the high street in Perth to see for yourself. Possibly looking at the rates could be an option but I don't really know what the answer is."
Perth City Centre councillor Peter Barrett said the firm's presence in Perth will be sorely missed.
The Liberal Democrat said: "This is sad news. Malloch's are a piece of Perth's history.
"Records show Malloch's have been a presence on the High Street since 1880 as manufacturers of first class fishing rods and tackle and taxidermists."
PD Malloch also established the Tay Salmon Fisheries Company in 1899, buying up the fishing rights along the river and estuary and creating one of the biggest operations of its kind. That business folded in 1996.
In his later years, Malloch became a great authority on all matters relating to salmon and trout.
He was the first to study the importance of scale markings on salmon, and proved they could explain every period the fish had spent in river or sea.
When Georgina Ballantine landed the largest ever line caught salmon in Britain, she did so using a PD Malloch rod. The 64 pound record-breaking catch was hooked near Caputh in Perthshire in 1922 and immortalised by Malloch's taxidermy team before being fed to patients and staff at Perth Royal Infirmary.